Two of the Ten Outstanding Young Omahans are Goodrichers!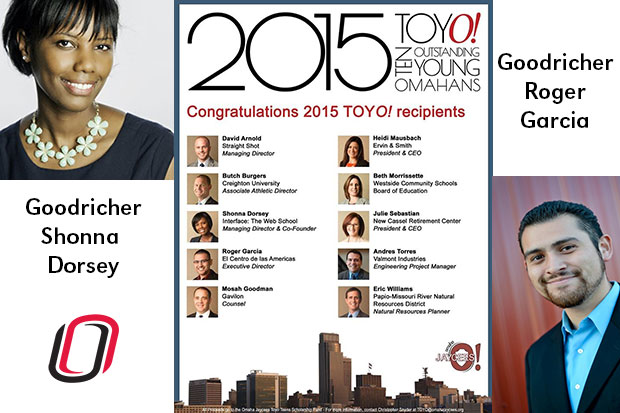 Omaha – Goodrich scholars Roger Garcia and Shonna Dorsey were recently selected as winners of the Ten Outstanding Young Omahans (TOYO) annual award for 2015.
According to the Omaha Jaycees' website, for over 80 years the award has been presented to individuals ages 21 to 40 years who exhibit extraordinary leadership qualities. The award notes particular commitment to improving the Omaha community through selfless acts of kindness while excelling in professional careers.
Goodrich alumna Shonna Dorsey is awarded for her work as co-founder and managing director of Interface: The Web School.  Interface: The Web School identifies two goals: "To build people's knowledge and skills for the web and increase the supply of technology talent for startups, small businesses, and corporations in the Midwest." Shonna began as a Goodrich scholar in 1997 and graduated in 2003
Goodrich alumnus Roger Garcia is being awarded for his work as the executive director of El Centro de las Américas, a non-profit organization that works to provide services and programming for clients. Roger began as a Goodrich scholar in 2005 and graduated in 2010. 
Both have received extensive awards and honors since their graduation. Earlier in the year, Shonna received the 2015 AIM Institute Tech Community Builder of the Year and today she serves on the UNO Alumni Association Board. Roger serves on the Board of Governors for Metropolitan Community College. Roger was the keynoter for the 2014 Goodrich Sophomore Awards Luncheon. Before Goodrich invited him to speak, Roger said the following, "The Goodrich Program set the course for the rest of my life. It allowed me to not only be able to attend the University of Nebraska at Omaha, but also to have a welcoming Goodrich family of professors and peers that made my transition from Columbus, Nebraska, to Omaha much easier for me. I received continuous support and a high caliber education provided by Goodrich instructors in an environment that was diverse in almost every way imaginable. I will forever be grateful to the Goodrich program and, in the Goodrich family spirit, will always continue to contribute back to my community."
The Goodrich spirit of continuous engagement with knowledge and the community still lives with these Goodrichers, who still remember our Goodrich meme: ONCE A GOODRICHER, ALWAYS A GOODRICHER!
Contact Us
If you have a story idea, news tip or inquiry please contact:
Debbie Vihstadt, Communications Specialist
dvihstadt@unomaha.edu • 402.554.3033