Recent BGS Graduate Created Her Own Path at UNO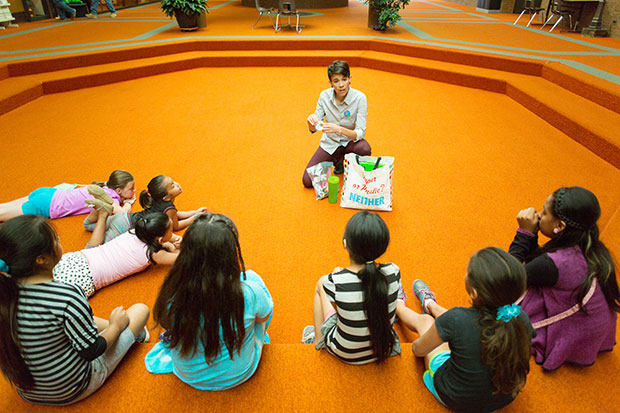 Omaha – Area children know her as the trash lady. Meridith Dillon's unique presentations as the Education Director at Keep Omaha Beautiful include throwing trash around the classroom to surprise and thrilled giggling.
It is obvious that Dillon is passionate about educating others about litter reduction, recycling, and the beautification of Omaha. Dillon's path to her current role as the trash lady was just as uncommon and impactful as her presentations are. Upon graduation she wanted a position that used her interests and passions to educate and make a difference in her community.
Dillon is a recent graduate of the Division of Continuing Studies at the University of Nebraska at Omaha. She received her Bachelor of General Studies degree in May 2015 with areas of emphasis in biology, horticulture, and geography. "I started at Metro Community College studying horticulture because of my love for plants. I transferred to UNO to deepen my knowledge. I knew my interests were with plants and the earth, but I didn't know how to tie those interests together," says Dillon.
Initially, Dillon explored traditional programs on campus, but the faculty and staff she met with encouraged her to look into the Bachelor of General Studies degree program to best utilize her transfer credit and tie together her interests.
"I instantly fell in love with the BGS program. It allowed me to create my own path and stand out. I didn't have to just follow the exact same program as hundreds of other students. I could build my degree to match my interests and needs and study what was meaningful to me. I didn't feel limited," says Dillon.
 During most of her college career Dillon worked 30 to 40 hours per week while raising her three young daughters. The BGS degree gave her the flexibility to have her class schedule blend with her busy schedule outside of school. "It was obvious that the academic advisors in the BGS degree program were used to working with people who wanted to make changes. I felt supported and understood," says Dillon of the staff in the BGS program.
Dillon wants others to know that regardless of what degree you have, you define what you do with it. "When I think about the BGS degree program and my experience at UNO I think about a George Bernard Shaw quote I heard while at a luncheon hosted by the program, 'Life isn't about finding yourself. Life is about creating yourself.' I view my degree as an asset, and I'm really proud of it." 
Contact Us
If you have a story idea, news tip or inquiry please contact:
Debbie Vihstadt, Communications Specialist
dvihstadt@unomaha.edu • 402.554.3033