Master of Arts in Social Gerontology
Expand your career opportunities!
T

wo Degree Options
Both offered online or on campus
Thesis option:  designed for those who wish to gain additional knowledge and insight from the research in the field of gerontology, to interpret the research critically, and who may wish to be prepared to conduct research on their own.
Non-thesis option: designed for practitioners currently working with older adults or aspire to work with elders in some capacity. The non-thesis track provides students with the necessary educational support to understand normal and abnormal age related changes. The training will also allow students to design, implement and evaluate programming for elders and their families.
Learn more about our degree options.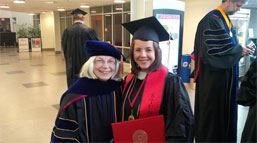 Required To apply:
3.00 GPA
Accepted to UNO Graduate Studies (UNO Graduate Admission process). Learn more about graduate admissions. 
Complete and submit to the Gerontology Department the application with a writing sample (department requirements).  Complete the graduate application.
Questions regarding the Master of Arts in Social Gerontology can be directed to the Gerontology Graduate Program Chair:

Christopher Kelly, Ph.D.
CPACS 210K
6001 Dodge Street
Omaha, NE 68182
402.554.4124
cmkelly@unomaha.edu