Earn College Credit While Acquiring Career Experience
Internships provide students with experience and insight on their chosen career path. Credit for internships is provided through CRCJ 3970. Up to 6 credits hours may be completed.
Experiential internships with criminal justice agencies or related community organizations provide opportunities for students to build career experience and professional network prior to graduation. Patty Gadea was a SCCJ student who turned her internship into a fulltime position upon graduation. Two students who took part in the University Honors Program and majored in criminology and criminal justice completed internships. You can read about honors student Abigail Osterhaus' experience with the Nebraska Department of Corrections (page 6) and honors student Morgan Goslar's experience interning with the Lincoln Police Department (page 9). And Rosario Briganti completed not one, but two, internships with NDCS.
Potential internship opportunities are linked here. An Internship and Career Development Resources Guide provides students with information internship options and long-term career opportunities.
Deadlines:
October 1 for Spring Internships; February 1 for Summer Internships; April 1 for Fall Internships
Research Internships allow students to gain research experience while working with SCCJ faculty. Several faculty led research labs accept undergraduate students each semester. Research internship students also work closely with graduate students in the lab as mentors and provide critical insight into the graduate school educational tract.
Deadlines: Research internship applications are accepted on a rolling basis.
For more information, application forms, and course requirements, visit our Experiential Internship and Research Internship pages.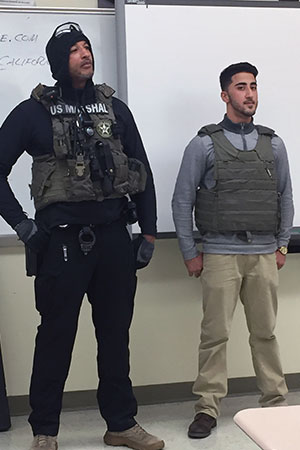 "Interning with an agency is by far one of the best ways to build connections. My internship with the U.S. Marshals was the best and most important experience of my life." Fatah Mir, pictured on right