REGISTER NOW for the Annual Scholarship and Awards Luncheon
Please join us for the 2022 SCCJ Scholarship and Awards Luncheon, being held on Friday, April 8, 2022 from 11:30 a.m. to 1:00 p.m. in the Scott Conference Center, located at 6450 Pine Street in Omaha. In addition to numerous students being recognized for their academic achievement, five community members will be honored for their outstanding contributions in the field of criminology and criminal justice. These individuals are:
Kim Hawekotte -- Deputy Administrator for Juvenile Justice
Dana Radatz, Ph.D. -- Associate Professor, Niagara University
Erin Sliva -- Resource Supervisor, Nebraska State Probation
Vanessa Urbach -- Crime Prevention Specialist, Omaha Police Department
Mary Visek -- Chief Juveile Probation Officer, Douglas County
The cost to attend the 2022 Scholarship and Awards Luncheon is $40.00 per person. You can purchase individual tickets or a table which seats 6 for $240.00. Registration deadline is March 28! Register online and pay by either check or credit card. For more information contact Geri Murphy at 402.554.3589 or via email at murphyg@unomaha.edu.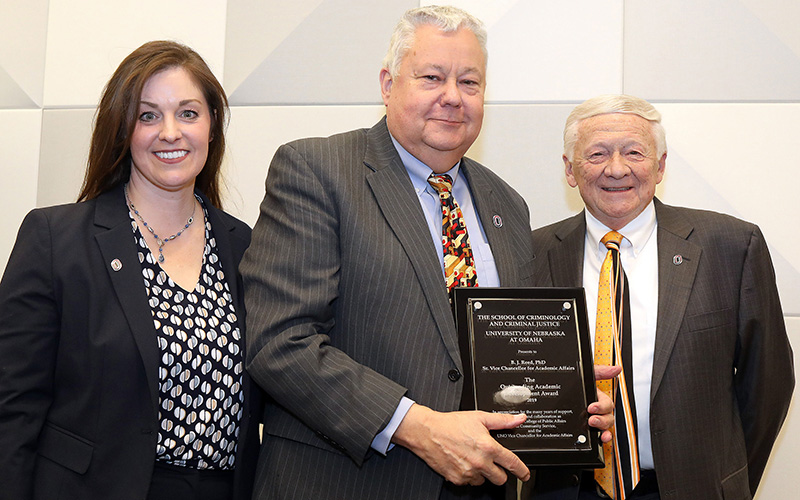 Left to right: Dr. Gaylene Armstrong, Dr. BJ Reed and Dr. Bill Wakefield at the 2019 Annual Scholarship and Awards Luncheon.
Story published 12/2021