Code Crush Summit
CodeCrush is excited to invite you to our annual Summer Summit. We're bringing together the energetic community that is fighting to diversify the IT workforce, and celebrate each other. We're bringing in national speakers, local heros and a big community of people who all are working towards making technology.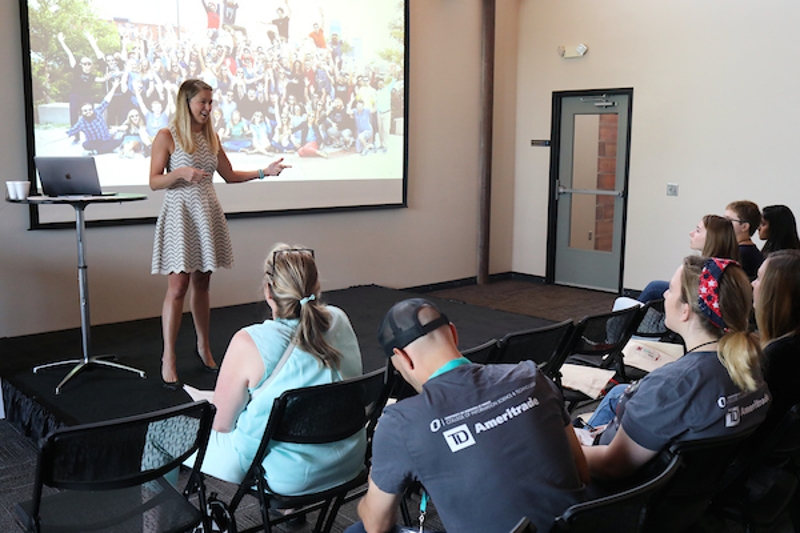 For more information or to register click
here
.
Wednesday, June 12th
6:00 PM
Check In at The Mastercraft
6:30 PM
Welcome Reception/Dinner

Evening Keynote Speaker
Emma Irwin, Mozilla
Emma Irwin leads diversity and inclusion strategy development for Mozilla's open source projects, and their communities. 
During a successful career as an software developer, she developed a passion for open source both as a mechanism for innovation, but also personal development and social change.  She has since dedicated her career to helping people and projects find each other.
---
Thursday, June 13
---
9:30 AM
Breakfast
9:45 AM 
Breakfast General Session 
There's Pink in My Code!
Marina Brown, Werner

You've wondered why so many electronic games are "boyish", why digital services often don't exactly "fit" what you want to do, and why choices that applications are making on your behalf don't seem to make sense. It's not a secret that most people who work in technology are male. Naturally, they bring the male-oriented bias to the products and services they develop. Such bias and choices may demonstrate themselves in, as an example, developing artificial intelligence that detects early signs of colon cancer before similar technology is developed for breast cancer. Or educational software that is based on boys' development stages vs. girls'. For women, this results in real-life implications and outcomes in healthcare, education, social development and, of course, entertainment. In this presentation we will talk about how the presence of more female technologists in the workforce can balance this bias and ensure we are developing technology that creates equal value for everyone in our society.   
10:30 AM - 12:00 PM
BREAKOUT SESSIONS
Session 1
SPRK+ Robots 
Presenter: IPG
Join advertising leader IPG in a session where we will build a computer, discuss the key parts, and delve into programming for video games. We will have multiple levels from beginner to advanced, so everyone is welcome. We will be working through the decisions and thought process in game development. 
Session 2
You and I and our UIs 
Presenters: Lauren Koperski (Mutual of Omaha)
Session 3 
Find Your People; Do Your Thing 
Presenter: Courtney Burns, Flywheel

Create a community of people that will uplift, support, and show you how to take the next step to following your dreams.

*This session will be 45 minutes
12:15 pm
Lunch
12:30 pm
Lunch General Session: 
Lianne McNaughton 

Lianne is a PMI-Agile Certified Practitioner and the Founder of Youth Can Do I.T. (YCDI). Lianne has worked with startups to large corporate companies and has demonstrable experience in leading, empowering and developing people; creating a culture that fosters collaboration, productivity, and self-organized teams. She is passionate and focuses her work around agility, youth empowerment, talent, and people development.
 
1:30 - 3:00 pm
BREAKOUT SESSIONS
Session 1
STEMming Girl Power through Strengths
Presenters: Laura Moreno & Melissa Moreno (Gallup)
During this session, Executive Technology Directors Katie Barton & Melissa Moreno will discuss the importance of girls in technology and STEM careers. Participants will also have an opportunity to discover more about their innate talents and Strengths and how they can apply those to technology careers.
Session 2
A Million Ways to be a Woman in Tech 
Description: Women in the tech world come from all walks of life. Even if you don't consider yourself a computer whiz, there is still a very important place for you at the table! In this session and interactive workshop led by a panel of women from Flywheel, we will explore how all of our unique strengths and talents contribute to the success of our business and the tech industry as a whole. 

Lineup: 
Brett Hicks - Moderator 

Panelists: 
Genevieve Bachinski, Courtney Burns, Kimberly Bailey, Ashley Lewin, Shruti Chaturvedula 

Session 3
The Business Analyst: Bridging the Gap Between the Business and IT 
Presenter: Misti Poynter, Lincoln Financial Group 

As organizations become heavily reliant on technology, it's essential that initiatives seek and identify the real business and customer need first. In order to achieve the outcome successfully, both the business and IT need to effectively communicate with one another. Although it may sound easy, this is where misalignment of the initiative begins. During this session, Misti Poynter will facilitate an interactive exercise, that exposes the Business Analyst's role of 'Bridging the Gap Between the Business and IT' by serving as innovative translators and incorporating empathy back into the world of technology.

Session 4
Be the Change
Presenter: Lianne McNaughton

A hands-on, interactive workshop on how you can be the social change agent in your community.
Media Contact
If you have a story idea, news tip or inquiry please contact:
Amanda Rucker, Communication Specialist, College of Information Science & Technology
arucker@unomaha.edu • 402.554.2070