UNO IS&T Collaborates with Area Organizations for Capstone Projects
2016/05/04
contact: Amanda Rucker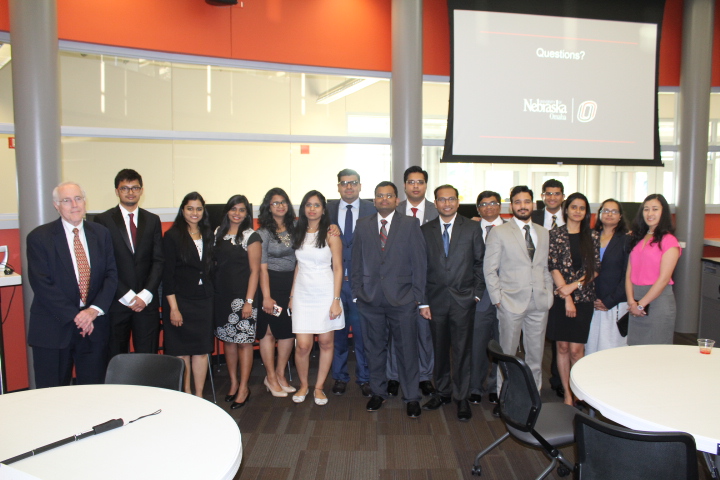 Omaha – As part of an ongoing priority to engage lessons learned in the classroom with solving pressing real-world problems, students of University of Nebraska at Omaha (UNO) College of Information Science and Technology (IS&T) worked with area organizations to help solve a variety of information technology needs as part of their Capstone masters project.
This year's Capstone project partners ranged from nonprofits to education organizations, all working with masters candidates at IS&T. The four projects for the Masters of Science (MS) Management Information Systems (MIS) Spring 2016 were:
The Graduate Academic Advisors of College of IS&T: Students were challenged to develop a system to help students plan their programs with the addition of meaningful reports for the advisors. The graduate advisors at IS&T create plans of study for roughly 400 Master's students and 30 PhD candidates. Plans of study are created for each student based on their concentration and are revised each semester based on course availability. Additionally, the plans of study were not correlated to the courses that are being offered. The MIS Capstone class developed a system that allows advisors to create plans of study, run reports, and easily search students' plans of study. The system also allows advisors run reports such as students by program, probation, graduation, enrollment status, student status, and blank reports. These reports will help the advisors with future planning.
The Visiting Nurse Association (VNA), a non-profit senior in home health care provider serving the Omaha-Council Bluffs area. The VNA and the Capstone C3 class teamed up to create a solution to help alleviate communication challenges. The solution is a website that can be used on both desktop and mobile devices. The website provides secure access for all patients and caregivers to their upcoming and historical schedules. The solution has completely automated, in-depth data integration with pre-existing 3rd party systems; role-based frequently asked questions; user role management; and schedule change notifications. The application is integrated with Google Maps to provide direction to appointments, and PayPal to allow for easy donations. In addition, the application comes equipped with a robust administration panel that provides VNA the ability to self-manage their application to meet their needs without any code modifications. The administration panel comes with user analytics, configuration settings, data integration logs, and FAQ management. This project was sponsored by Sugaland LLC and Guillard Properties, Inc.
Sponsored by Blue Cross and Blue Shield of Nebraska, First National Bank, and the Polso Family, the Douglas County Emergency Management Agency challenged IS&T students to develop the LiveLog Emergency Chat Application. Douglas County Emergency Management Agency engages and coordinates stakeholders and resources to effectively prepare, mitigate, respond to and recover from community emergencies and natural disasters. In order to improve communication between the various entities involved in such events, the Douglas County Emergency Management Agency was looking for an easy-to-use chat application. The LiveLog Emergency Chat Application System was developed with several features such as password-enabled chat rooms, the ability to upload an attachment to a chat message, manage several events and users, and to export the chat log created during an event. The team also competed in the 6th Annual PKI Student Capstone and Research Conference on April 29, 2016. This event provides students with an opportunity to present their research and findings to a wide audience of fellow students, faculty, judges, and leaders from government and industry. The team was awarded second place and received a prize award of $500.00 as a result of their hard work and dedication to this project.
Partnering with Partnership4Kids, IS&T students worked to create a solution to help alleviate inefficient processes in an existing application. Partnership4Kids is a non-profit organization dedicated to serving disadvantaged students in the Omaha Public School system. It is a goal setting and group mentoring program that builds hope for under-served students and helps them create a foundation for success from kindergarten to careers. Currently, there are more than 5,200 students in 23 Omaha Public Schools participating in Partnership programs. The solution is a mobile responsive web application that provides the volunteers with the functionality to take attendance in their classes and store the information directly into the existing Partnership4Kids web application database. The biggest improvement was the reduction in overhead by implementing the alerts feature that gives clients the ability to send text messages to students and volunteers. The overall efficiency of the existing application was also improved. This project was sponsored by Werner Enterprises, Inc. Omaha.
For questions about the Capstone presentations, please contact Amanda Rucker, communications specialist for the College of IS&T, at 402.554.2070.
Media Contact
If you have a story idea, news tip or inquiry please contact:
Amanda Rucker, Communication Specialist, College of Information Science & Technology
arucker@unomaha.edu • 402.554.2070