IS&T Celebrates IT Innovation Through 4th Annual IT Innovation Cup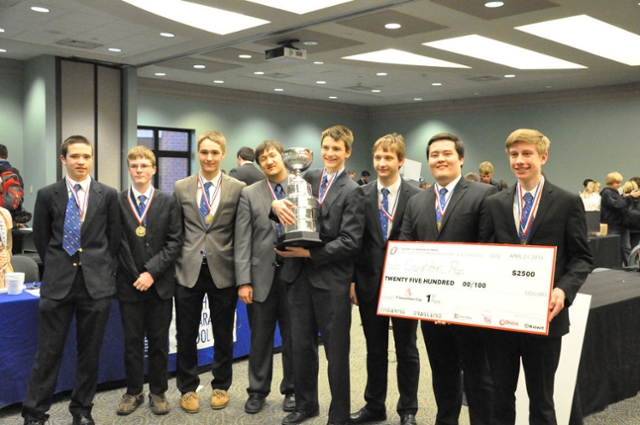 Omaha – As part of an effort to encourage high school students to think about future technology possibilities and to creatively solve problems in innovative ways, the University of Nebraska at Omaha (UNO) College of Information Science and Technology (IS&T) today announces the finalists for the inaugural IT Innovation Cup.
Presented by First Data, the IT Innovation Cup is an annual, seven-month long competition between Omaha area high schools which involves educational workshops, open house receptions and ongoing student competition which will culminate with the IT Innovation Cup award. On April 19 at Scott Conference Center, 6450 Pine St. IS&T will honor the six high school team finalists and present the IT Innovation Cup winning team with a $2,500 first place prize, $1,000 for second place and $500 for third.
"Living in an ever-changing technologically-based society, it is important that we nurture and inspire innovation in our students," said Dr. Hesham Ali, dean of the College of Information Science and Technology (IS&T). "As we find creative ways for students to explore their passions in IT, it's of upmost importance that we show them that no matter their interest, technology can play a part in their future careers. The IT Innovation Cup is a fun and inspirational competition where many students find their place in IT."
At the final presentation on April 19, the public is invited to attend and vote on their favorite innovative solution from 3:00 – 5:00 p.m. at Scott Conference Center. A reception will start at 5:30 p.m. with an awards program to follow at 6:30 p.m., winners being announced around 7:10 p.m. Media is invited to the event.
The IT Innovation Cup aims to engage Nebraska high school students in a competition that focuses on creativity, innovation and technology. Area high schools are invited to compete with teams of up to 10 students. Finalists will be chosen on their ability to solve the current year's problem requirements in the most innovative way, which also best uses information technology.
For the 2015-2016 school year, the challenge area is "Global Connectivity and the Internet of Things." Teams will discern a need or problem that can be solved by either: Making an object Internet-enabled; Utilizing/combining multiple web services; both "Internetifying" something and combining this device with other web services. Through creating a compelling solution to a problem, their IT-based solution needs to include new or novel software development, hardware configuration, and/or system setup.
The 2015-2016 IT Innovation Cup is sponsored by First Data, the Omaha Chamber of Commerce, and Northrup Grumman.
Following high school teams are finalists for the 2015-2016 IT Innovation Cup:
Creighton Preparatory High School
Daniel J. Gross Catholic School
Millard West High School
Omaha North High School
V. J. and Angela Skutt Catholic High School
Westside High School
For questions about the IT Innovation Cup, please contact Amanda Rucker, communications specialist for the College of IS&T, at 402.554.2070.
About IS&T
The College of Information Science and Technology (CIST) was established at the University of Nebraska at Omaha in 1996 and represents the joint efforts of the University of Nebraska, the State of Nebraska, and private industry to address the growing global needs for knowledgeable professionals in Information Technology (IT). For more information visit ist.unomaha.edu.
Media Contact
If you have a story idea, news tip or inquiry please contact:
Amanda Rucker, Communication Specialist, College of Information Science & Technology
arucker@unomaha.edu • 402.554.2070