UNO Students Start One-of-a-Kind Sports Website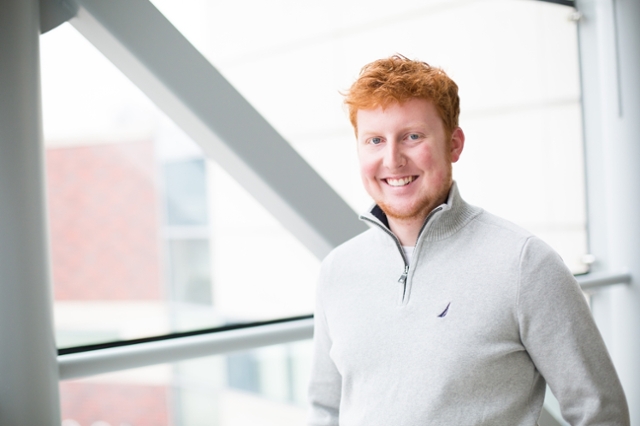 Extreme sports enthusiasts in the Midwest, and Omaha in particular, finally have a media source they can rely on.
University of Nebraska Omaha (UNO) junior Callen Hedglen is the founder of CUSO Sports Network, an online sports network dedicated to the growth of the extreme sports community.
Hedglen, a transfer student from the University of Missouri-St. Louis, working on his degree in the College of Information Science & Technology, came up with the idea when he was making his routine drives from Omaha to St. Louis.
"I was driving back and forth from Omaha and St. Louis a lot, and I noticed that there wasn't really any coverage for extreme sports in the Midwest," he said.
CUSO Sports Network covers everything from BMX and racing to skateboarding and mixed martial arts.
"We say extreme, but what we really mean is out of the ordinary," said Matt Holtmeyer, a junior political science major.
Holtmeyer and Hedglen work alongside a team of seven writers and photographers that contribute to the site. They have already covered the Dew Tour in Breckenridge, Colorado and the Victory Fighting Championship at Baxter Arena.
For a start up, covering an event like the Dew Tour gave CUSO Sports some credibility early on. Organizers of the event decided to give Hedglen and Holtmeyer media credentials after looking at their website.
"It was a pretty high profile event with Olympic and X Games athletes being there," said Hedglen. "We were in the media den right next to all of the athletes and reporters from high profile sources like NBC Sports."
People in Omaha are starting to take notice, too. An article and short video by KETV has helped get the site more traffic, said Hedglen.
"It has just blown up, it's been insane," added Holtmeyer.
The extra workload means less free time for Hedglen and Holtmeyer, They still have another year before graduation. However, work and school has been a symbiotic relationship for both of them.
"The IT innovation major has been a really good fit for me," said Hedglen "They give you the freedom to take that coding experience wherever you want. I think it's the major that is most beneficial for entrepreneurship."
"I do a lot of the writing for the site, and being in the political science program, where most of what you do is read and write, that has really helped me," added Holtmeyer.
The journey has only begun for CUSO Sports Network. In the summer they plan to cover events at local racetracks. There are also plans for an apparel brand.
"We want to take this to the point to where it is changing the extreme sports environment in the Midwest, especially Omaha." said Hedglen.
Media Contact
If you have a story idea, news tip or inquiry please contact:
Amanda Rucker, Communication Specialist, College of Information Science & Technology
arucker@unomaha.edu • 402.554.2070