UNO iSTEM Program for Girls Awarded $200K Matching Grant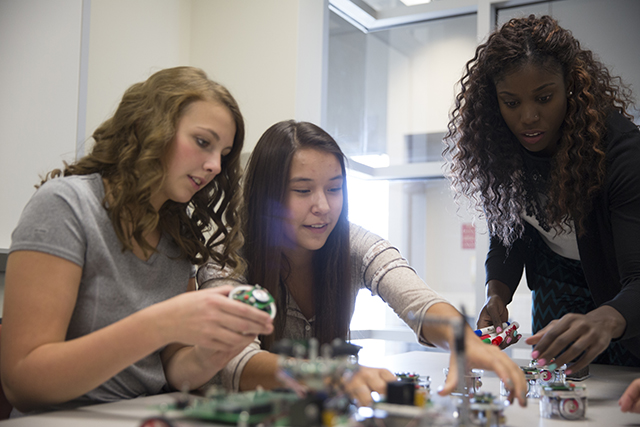 Omaha – The Peter Kiewit Foundation has awarded a challenge grant of $200,000 to the University of Nebraska at Omaha (UNO) College of Information Science and Technology (IS&T)'s CodeCrush program - an immersion experience designed to introduce 8th and 9th grade girls to the innovative world of information technology (IT). 
The funds, which will be awarded over the next three years, will be used to expand the program to twice a year and add a summer conference for CodeCrush alums, teachers, mentors and other stakeholders.
As part of this matching grant challenge, the University of Nebraska Foundation will work closely with IS&T to raise an additional $200,000 over the next three years in new contributions. 
This winter, 205 students from 80 different communities in three different states (NE, IA, SD) applied for 40 spots. That's nearly triple the number of applications from CodeCrush's inaugural year in 2014. 
In addition, 35 percent of this year's class are from rural communities (towns of less than 2,500 people) and 45 percent report being in free and reduced lunch programs.
This winter's CodeCrush will be held from Feb. 24 – 27. The summer CodeCrush conference and fall CodeCrush dates will be announced soon at https://codecrush.unomaha.edu/.
"The interest in CodeCrush shines a direct spotlight on the importance of diversifying the talent landscape in computing programs," said Dr. Deepak Khazanchi, Associate Dean at the College of Information Science and Technology. "We are proud of what we have accomplished so far with CodeCrush, and are on track to becoming the largest iSTEM experience for girls in the region.
"We are grateful for the award of much needed funds from the Peter Kiewit Foundation and hope that Omaha organizations will help us in meeting PKF's challenge of financially supporting and expanding CodeCrush, and IS&T's other iSTEM programs, as we work to inspire more students to pursue IT careers."
CodeCrush is part of IS&T's Women in IT Initiative that is led by a community task force of IT leaders dedicated to finding actionable solutions to close the gender gap and meet the local and national workforce deficit in IT. More information on the initiative can be found at https://www.ist.unomaha.edu/women-in-it/.
"Awarding IS&T funds to help expand and support CodeCrush is an honor," Wendy Boyer, senior program officer at the Peter Kiewit Foundation said. "I'm hopeful this award will help inspire additional Omaha organizations to support CodeCrush, and similar programs, financially.
"It is imperative that the Omaha community understands the importance of exposing students, and their teachers, to the various career opportunities available even before they reach high school, as it can impact the courses and programs they pursue in high school and beyond. We have an opportunity to inspire a diverse group of students to pursue IT and help close the talent gap; we hope the Omaha community will follow our lead."
By the year 2020, the Bureau of Labor Statistics projects there will be 4.2 million jobs in computing and IT in the United States alone. Despite the growth, the number of available qualified IT professionals continues to be low, and women comprise just 25 percent of all computing-related occupations in the United States. There's also a common misconception among young students, particularly girls, that IT is inaccessible. 
CodeCrush hopes to combat these perceptions. The program takes place over four days and three nights. Participating students take part in half-day educational workshops illustrating the diversity of IT with exposure to areas such as bioinformatics, cybersecurity, mobile app design and IT Innovation.
Afternoon and evening sessions show the student IT in action, such as an IT tour of the Henry Doorly Zoo and an Omaha start-up crawl, illustrating the vibrant community that is being nurtured in Omaha.
CodeCrush students also hear panel discussions and keynote speeches from leaders, current students, IS&T alumni and many others who are mentors and role models in this domain.
Additionally, a major component of CodeCrush requires the students to bring along a teacher-mentor who attend parallel workshops on how to infuse IT concepts into their current curriculum and champion such skills and content in their own schools.
"The experience at CodeCrush is unsurpassable," Kristeen Shabram, Omaha Westside middle school teacher who attended CodeCrush in 2015. "The learning opportunities IS&T has delivered with programs such as this has been inspiring. My student gained confidence, met a community of people invested in her success and gained a better understanding of what the world of IT can offer her. I am excited to be a part of this ever growing CodeCrush community and for the future opportunities the Omaha area can invest in."
For questions about the Women in IT Initiative, or how to support this initiative, contact Amanda Rucker, communications specialist for the College of IS&T, at 402.554.2070.
For media requests, please contact:
Sam Petto, UNO Media Relations Coordinator

unonews@unomaha.edu

402.554.2704

 
or


Charley Reed, UNO Associate Director of Media Relations

unonews@unomaha.edu

402.554.2129

About the University of Nebraska at Omaha

 
Located in one of America's best cities to live, work and learn, the University of Nebraska at Omaha (UNO) is Nebraska's premier metropolitan university. With more than 15,000 students enrolled in 200-plus programs of study, UNO is recognized nationally for its online education, graduate education, military friendliness and community engagement efforts. Founded in 1908, UNO has served learners of all backgrounds for more than 100 years and is dedicated to another century of excellence both in the classroom and in the community.
 Become a fan of UNO on Facebook and follow UNO's Twitter updates.
About UNO's College of Information Science and Technology (IS&T) 
The College of Information Science and Technology (IS&T) at UNO represents the joint efforts of the University of Nebraska, the State of Nebraska and private industry to address the growing global needs for knowledgeable professionals in Information Technology (IT). The College was established at UNO in 1996 to meet the growing demand for IT graduates in the Omaha metropolitan and surrounding area.
Media Contact
If you have a story idea, news tip or inquiry please contact:
Amanda Rucker, Communication Specialist, College of Information Science & Technology
arucker@unomaha.edu • 402.554.2070