NSF Grants to Fund Bioinformatics, Data Analysis Research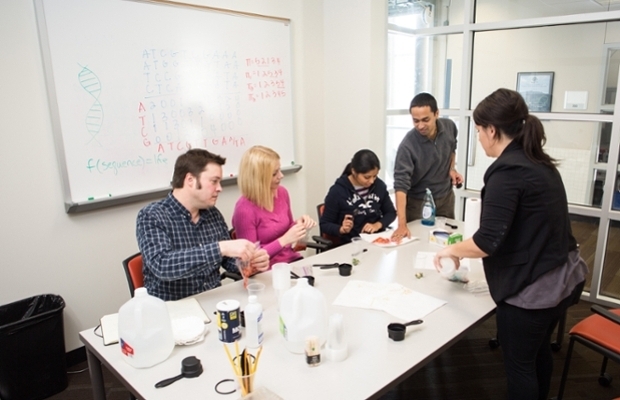 Omaha – Two new grants from the National Science Foundation (NSF) will fund research at the University of Nebraska at Omaha (UNO). One project aims to expand life science curricula nationwide; the other's goal is to make it easier to track changes in extremely large networks.
The larger of the two grants comes in just shy of $500,000. The funding will support a "Network for Integrating Bioinformatics into Life Sciences Education" (NIBLSE).
The long-term goal of the project is to establish bioinformatics as an essential component of undergraduate life sciences curricula nationwide. A network of researchers, led by Dr. Mark Pauley, will draw on literature and their expertise to identify core competencies and assessment tools. They'll also develop systems to better distribute education materials, assessment tools and professional development resources.
The field of bioinformatics uses techniques from computer science to store and analyze large biological data sets.
The project's abstract points out that while bioinformatics is "central to studying many aspects of biology," it's not an integral part of most biology curricula.
The second grant totals just under $150,000.
Project SPANDAN (Scalable Parallel Algorithms for Network Dynamics Analysis) aims to help researchers more quickly study extremely large changing networks and more easily apply different methods of tracking those changes. In Sanskrit, spandan means rhythm and refers to the changing dynamics of the system.
The research is a collaborative effort between UNO's Dr. Sanjukta Bhowmick and Dr. Sajal K Das of Missouri University of Science & Technology.
Rep. Brad Ashford released two statements, congratulating UNO on each grant. One reads, in part, "With announced NSF grant funding now totaling over half-a-million dollars, it's fair to say that UNO is a nationally recognized leader in pioneering new fields of scientific research."
In the other statement, Rep. Ashford said UNO's focus on the IT sector is a natural fit.
"America's economy in the 21 century will be heavily reliant on innovation in the tech sector," said Ashford, "and UNO is proving to be an integral contributor to this effort."
Both grants will be disbursed beginning this month.
About the College of Information Science and TechnologyÂ
?The College of Information Science and Technology (IS&T) at the University of Nebraska at Omaha represents the joint efforts of the University of Nebraska, the State of Nebraska, and private industry to address the growing global needs for knowledgeable professionals in Information Technology (IT). The College was established at UNO in 1996 to meet the growing demand for IT graduates in the Omaha metropolitan and surrounding area.
Media Contact
If you have a story idea, news tip or inquiry please contact:
Amanda Rucker, Communication Specialist, College of Information Science & Technology
arucker@unomaha.edu • 402.554.2070