IS&T's Attic Gives Real World Experience to Students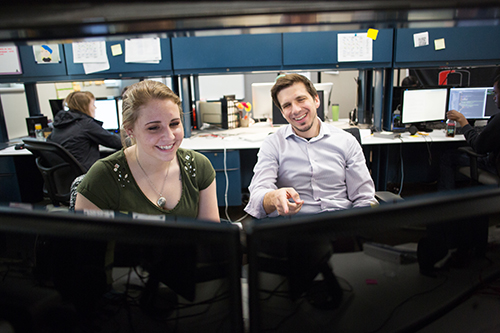 Omaha, Nebraska – For the past 10 years, The Attic has been developing more than just mobile apps and websites. They are developing talent as well. Students at the Attic work on real projects for local companies, and there is always lots of work to be done.
The Attic, nicknamed after the small corner room where it began, started as a group of students working on a university project for the bicentennial commemoration.  The project was so successful that more requests started rolling in. Today anywhere from 15 to 20 students are working on various projects at The Attic.
Jonathan Allou, a sophomore computer science major and web developer at The Attic, said The Attic is an interesting mix of people. "We have a lot of international students, we all different kinds of people," he said. "I think you would be surprised at how non-conventional the group of people here is. We don't really fit any of the misconceptions of what many people would think a computer science major is."
If you have a passion for web development and computer science, freshman or senior, The Attic is the place to be. "I think what we are looking for is someone who is interested and willing to learn," said Allou. "If you show willingness to learn you can be successful here."
Zac Fowler, Director of The Attic and '03 UNO graduate, said that The Attic provides students a chance to get some real experience in a professional environment. "Students have a level of professionalism that they are expected to maintain," he said. "They are learning how to interact with clients and how to understand the needs of the clients. We have a lot of people that come to us with an idea. It is a chance for the college to interact with the community."
Fowler says that often times it can be difficult for students to get valuable work experience during school. "In order to get an internship you need experience, but in order to get experience you need to have an internship," he said. "So with that catch-22, we are a first step for students."
Allou said that he did not have a lot of experience when he first started at The Attic. "My high school did not offer any computer science classes, so everything I knew was just from kind of tinkering on my own and learning from the internet," he said. "It's really easy to get started now because there are so many resources out there."
"I just really like computers and all of the things that you can do with them. I think if you have a passion for something, you can achieve a lot." Allou added.
Allou's journey to UNO is not typical. The Ivory Coast-native went to high school in Missouri, and he chose to attend UNO after touring the luxurious apartment-style living spaces. The on-campus housing may have been what got him hooked, but he says the opportunities are what really makes UNO special.
"This gives me a real-life scenario," said Allou. "I think that is what we are good at as a university, giving you a real-life experience to go along with whatever you are learning."
Fowler said that the real-life experience gives students in The Attic an advantage over other applicants once they start applying for jobs. "Most of our students get hired out pretty quick, but not just because they came out of our office," he said. "They are able to demonstrate that they have worked on some successful projects. They already have a portfolio of developing websites before they graduate."
Right now Allou is working on a website that helps young students study for their exams, but he has even bigger goals once he gets his degree.
"I want to start something of my own," he said. "I want to create something that gives people jobs, and I think that the computer science field gives you the opportunity to create in ways that people haven't been able to create in a long time."
Media Contact
If you have a story idea, news tip or inquiry please contact:
Amanda Rucker, Communication Specialist, College of Information Science & Technology
arucker@unomaha.edu • 402.554.2070
Our Campus. Otherwise Known as Omaha.
The University of Nebraska does not discriminate based on race, color, ethnicity, national origin, sex, pregnancy, sexual orientation, gender identity, religion, disability, age, genetic information, veteran status, marital status, and/or political affiliation in its programs, activities, or employment. Learn more about Equity, Access and Diversity.
scroll to top of page