UNO College of IS&T Awarded National Centers of Academic Excellence in Information Assurance/Cyber Defense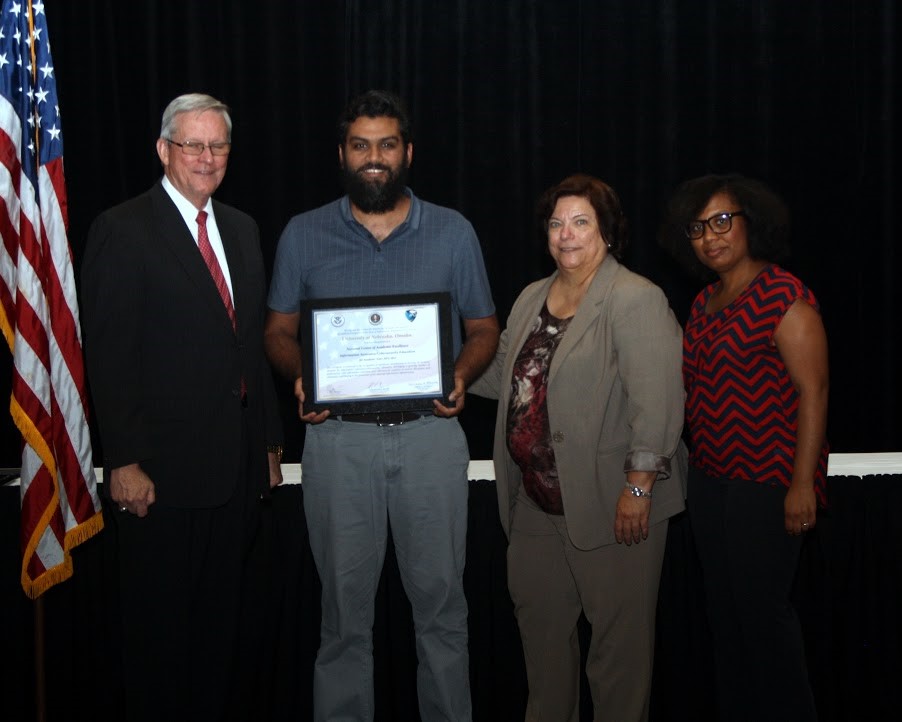 Omaha – The University of Nebraska at Omaha (UNO) College of Information Science and Technology (IS&T) has been re-designated as a National Security Agency (NSA)/Department of Homeland Security (DHS) National Center of Academic Excellence (CAE) in Information Assurance (IA)/Cyber Defense (CD) until 2021. Along with 44 other institutions, IS&T receives this honor based on updated academic criteria for cybersecurity education.
"We are incredibly honored to receive this designation, as it reflects our college's dedication to high-quality cybersecurity and cyber defense education," said Ann Fruhling, director of the School of Interdisciplinary Informatics. "Our students are highly sought by employers as cybersecurity experts to protect information infrastructures in the private and public sectors. To receive this recognition from the NSA and DHS is a testament to our program and quality of students."
Answering a call to the President's National Strategy to Secure Cyberspace in 1998, the National CAE designation program promotes higher education in Information Assurance (IA) and Cyber Defense (CD) and prepares a growing number of IA/CD professionals to meet the need to reduce vulnerabilities in the Nation's networks. The centers, which now total 181 in 43 states, the District of Columbia and the Commonwealth of Puerto Rico, are recognized experts in the fields of IA and CD.
Institutions must first meet rigorous criteria before receiving the CAE designation, which are rated independently. Qualifying universities are designated as a CAE for a period of five to seven academic years, after which they must reapply. CAE program requirements include:
Demonstration how IA/CD is extended beyond the normal boundaries of the institution
A formal organization, or center, for IA/CD education to be used as a resource for students and faculty
A robust and active IA/CD academic program
IA/CD is multidisciplinary within the intuition, and be able to demonstrate that IA/CD is not treated as a separate discipline
IA practices are encouraged throughout the institution
IA/CD/Cybersecurity student-based research is encouraged
IA/CD/Cyberseruciry faculty and course load is sufficient
Students attending intuitions which receive the CAE designation are eligible to apply for scholarships and grants through the Department of Defense Information Assurance Scholarship Program and the Federal Cyber Service Scholarship for Service Program.
The University of Nebraska at Omaha is also home to Nebraska University Center for Information Assurance (NUCIA) within the College of Information Science and Technology. The College offers B.S. and M.S. in IA as well as a Ph.D. in Information Technology with an Information Assurance concentration. In addition UNO also offers certificates and concentrations in IA for students in other related disciplines. Since 2004 UNO has offered the National Science Foundations sponsored Scholarship for Service (SfS) to IA students which includes a significant stipend and tuition and fees for students in a cybersecurity discipline.
"The new criteria significantly raises the bar for institutions that want to qualify for the new CAE/CD designation," NUCIA Director Dr. Bill Mahoney commented. "Cybersecurity and computer defense is an ever-changing industry, and we work hard to keep our ears to the ground and respond quickly to new developments in education and practices."
A list of CAE/IAE and CAE/CD institutions can be found here: Centers of Academic Excellence in Information Assurance Education.
###
The College of Information Science and Technology (IS&T) at the University of Nebraska at Omaha represents the joint efforts of the University of Nebraska, the State of Nebraska, and private industry to address the growing global needs for knowledgeable professionals in Information Technology (IT). The College was established at UNO in 1996 to meet the growing demand for IT graduates in the Omaha metropolitan and surrounding areas.