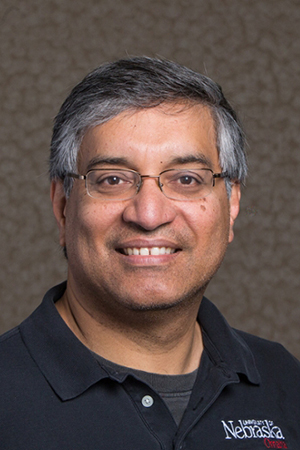 The dream of a young boy in India to become an engineer and scholar has led Deepak Khazanchi to UNO's College of Information Science&Technology, where he has been named to succeed Hesham Ali as associate dean.
Khazanchi was the college's Peter Kiewit Distinguished Professor and chairman of the department of Information Systems and Quantitative Analysis. He says he is eager to fulfill his new role as part of the administrative team headed by Ali, who succeeded David Hinton as dean.
"It will be my goal to assist Dean Ali in his effort to bring the college to the next level of accomplishment and recognition," he says. "Our students are our greatest asset, and we will continue creating educational programs that challenge them here and afford them great opportunities after graduation."
Khazanchi is a civil engineering graduate of the Indian Institute of Technology in Kharagpur. He worked as a structural engineer and project manager before coming to the United States to obtain his MBA from Southern Illinois University at Carbondale. He earned his Ph.D. from Texas Tech University.
"Sounds like the American dream one hears about on TV, doesn't it?" he says, smiling. "Truly, I'm proud of the diverse path I took to get here, and the challenges and enriching experiences that I encountered along the way."
Khazanchi also serves as the joint coordinator of the Center for the Management of Information Technology (CMIT) within the college. His research and teaching interests are focused in the areas of virtual project management, business-to-business assurance services and risk analysis in extended enterprise environments, and the application of ideas from the philosophy of science to information systems.
His research has been published in a variety of scholarly journals, and he recently co-published a book with fellow IS&T faculty member Ilze Zigurs on patterns of effective virtual project management.
He and his wife, Meenakshi, have two sons: Rohan, 11, and Ruchir, 7. He enjoys traveling with his family to the country's national parks, playing racquetball and reading.
Khazanchi came to UNO in 2000 and says he's been impressed ever since.
"The college is supported by a world-class faculty/instructors, practitioners and scholars committed to a student-centered learning environment," he says. "They have practical knowledge of the information technology field and are well-known for their excellence in teaching, research and their active participation in collaborative projects with the private and public sectors.
"Working together, I believe we have the opportunity and the ability to provide outstanding educational experiences for our students, and to make an impact on our community through new collaborations, service-learning projects and research."
He encourages alumni to take an active role in the college's progress.
"Our alumni have always been generous and can continue assisting us in many ways," he says. "They can donate time and money, recruit students to our programs, share their experiences as mentors and adjunct teachers, establish valuable collaborations between our college and their businesses and organizations, and promote the college and the Peter Kiewit Institute to others."
By doing so, he says, they might just help someone else's dream become reality.
Media Contact
If you have a story idea, news tip or inquiry please contact:
Amanda Rucker, Communication Specialist, College of Information Science & Technology
arucker@unomaha.edu • 402.554.2070