Bridging the distance gap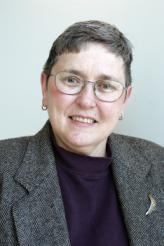 Not only is distance education a valuable option for students who are unwilling or unable to attend regular classes on campus, it has become an equally valuable tool for faculty members.
Leah Pietron, Ph.D. (pictured), is associate professor in the Department of Information Systems and Quantitative Analysis (ISQA) at the College of Information Science & Technology. Beyond her teaching and research, Pietron is a primary caregiver for a parent living in North Dakota.
"I can offer all my classes online from North Dakota, if I need to," she says. "I can be anywhere in the world, at a conference or on vacation, and still deliver my classes, as long as I have a network connection and access to my portable computer."
In distance education, faculty members record their lectures then stream them online for students to view on their own computers at a time of their choosing. Distance education has evolved to serve the needs of non-traditional students and professionals throughout Nebraska — and is attracting interest from surrounding states and international students.
Dwight Haworth, Ph.D., associate professor in the Department of ISQA, says a number of factors combined to trigger the IS&T distance education program in 2006:
The availability of funds from UNO's Information Technology Services for faculty to develop distance courses;
UNO placing the general education curriculum on-line, providing an online foundation for the majors;
A desire on the part of UNO's Division of Continuing Studies to make available a degree in management information systems (MIS);
Requests from students, some in the military, who had been relocated but wanted to complete their degree from UNO; and,
A lack of classroom space in the evenings for non-traditional students.
"Internet-delivered courses have filled all of these needs," Haworth says, "and they're available 24/7."
Pietron and Haworth were joined in the initial effort by fellow ISQA faculty members Paul van Vliet, Peter Wolcott and Kerry Ward, with support from ISQA Chair Ilze Zigurs and IS&T Dean Hesham Ali.
Today, three degree programs are being made available online: a bachelor of general studies (BGS) degree in MIS; a BGS in information technology (IT), and a BGS in computer science.
"The MIS and IT programs either are or are becoming fully distance-ized," Pietron says. "Our undergraduate bachelor of science in MIS is one course short of having the whole degree available online. In the graduate area, the Information Assurance (IA) Certificate and IA Concentration is completely available online."
In addition, faculty are conducting a pilot study that incorporates the versatility of Adobe Connect — a Web communication software tool that allows instructors to combine multimedia content with real-time interactivity for a new level of collaborative teaching and learning — into project-based courses such as ISQA capstone courses for their delivery online.
"I've integrated it (Adobe Connect) into all my classes," Pietron says, "especially those which I previously wouldn't put online without the option for interaction that Adobe Connect provides."
The Distance Education Steering Committee at IS&T brings together the chairs of undergraduate and graduate programs, department chairs and representatives of the Nebraska University Consortium for Information Assurance (NUCIA) to keep the program moving forward.
"The people who are engaged in this process care about the quality of the programs we deliver online," Pietron says. "We are the biggest investors in this, and we are all innovators."
Media Contact
If you have a story idea, news tip or inquiry please contact:
Amanda Rucker, Communication Specialist, College of Information Science & Technology
arucker@unomaha.edu • 402.554.2070