Student profile: Tony Valenti Imagining the possibilities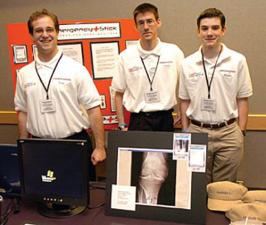 Tony Valenti is the founder and chief architect of four technology companies, one of which employs 15 permanent contractors stretching from Canada to Australia. His Bellevue-based high-speed computer servers host the web sites of several corporations, government agencies and even a celebrity. He leads the development of the "Emergency Stick," a microchip-equipped medical bracelet that placed second in the worldwide Software Design Invitational of Microsoft's Imagine Cup 2006.
Just imagine what Valenti might do once he graduates.
Currently, Valenti is a senior computer science major at UNO's College of Information Science&Technology. He says his interest in computers began when he was 5 years old. "I was watching the TV show '20/20' interview a man who owned a small software company. The man was Bill Gates. I said to my mom, 'That looks interesting. I'd like to learn about that.'"
His mother, Dwynette, began to smile. "Is that so?" she replied. "Well, I just so happen to have my degree in computer science."
She sat him down in front of a computer.
"It was an old DOS computer," he recalls. "She opened a program called Q Basic and told me about the F1 'Help' key, which could teach me anything I wanted to know. I pressed it, started reading and from that point on, I was hooked. It was fun."
Home-schooled until his junior year in high school, Valenti got his first technology job when he was 17. "I went on-site for an automation project for a company in Canada."
Today, his companies are Power DNN (www.powerdnn.com), Mobile Now (www.mobilenow.cc), Keep Alive Forever (www.keepaliveforever.com), and Emergency Stick (www.emergencystick.com). The services they provide include software development, server virtualization and technology consulting.
"You can't tell someone 'I do everything,' even if you do," he says. "I've set up different entities that focus on one or two aspects of a problem or issue. For me, it makes sense to have different companies that ultimately complement each other."
The Microsoft Imagine Cup 2006 invitationals drew 65,000 students from more than 100 countries to compete in six categories, including software design.
Valenti, Jeremy Capello, a student at Bellevue University, and Michael Knipp, a local high school student, developed the Emergency Stick bracelet. An encrypted USB device compatible with PDAs, cell phones and computers, it can hold critical medical information and in an emergency provide the wearer and responders with real-time feedback regarding recommended treatments.
In non-emergency situations, it can be synched with a desktop application to provide the user regular reminders, such as to take a medication. The device earned the team a $4,000 cash prize.
"The students at this year's Imagine Cup represent the next generation of technology and business leaders," says Sanjay Parthasarathy, corporate vice president of developer and platform evangelism at Microsoft. "Their creativity, innovation and commitment to improving people's lives is inspiring."
Valenti says he thrives on the technological challenges he faces at IS&T. After graduation, he plans to stay in Omaha, expand his services, and continue having fun.
"Other people go to work in the morning," he says, patting a rack of sleek Dell servers that are home to his Web-based clients. "I go play with these."
Media Contact
If you have a story idea, news tip or inquiry please contact:
Amanda Rucker, Communication Specialist, College of Information Science & Technology
arucker@unomaha.edu • 402.554.2070