Professor Peter Wolcott: Demanding Excellence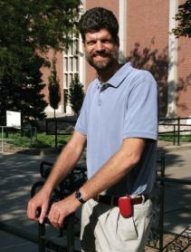 "Some of what shapes my thinking also goes into my classes," says Wolcott, director of the master's of science in Management Information Systems program at UNO's College of Information Science&Technology. "I certainly enjoy the exercise of figuring things out and then explaining it all to others."
Wolcott, who received the 2001 UNO Excellence in Teaching award, says he is not an "easy" instructor.
"My courses are demanding, time-consuming courses, but because it is time well-spent, I think students appreciate the value they receive. I work hard to make sure my assignments are relevant, are value-adding and are useful to a student.
"The worst thing they can say is that an assignment amounted to a bunch of 'busy work.' That means the assignment failed miserably."
In his 11 years at UNO, Wolcott has had a considerable impact on his students. He hears back from former students and some comment on how they've applied his lessons to their current work.
"It's a source of great satisfaction for me when I see I have made a contribution to their lives, either personally or professionally."
He infuses a strong sense of values into the classroom and his private life with his wife, Ellie, and daughters, Elisa, 14; Lena, 11; and Clara, 7. "I am the same person in private as in public. I try to be open and honest with people."
He says honesty makes teaching easier. "I don't have to work on my image. All I have to be is me. There's a certain simplicity to life when you can just be who you are."
Wolcott serves as "a bridge" for student exchanges with Norway, his mother's native country. He lived a year in Norway before attending college and did graduate research in the former Soviet Union, where he lived for nine months.
The year he recently spent on sabbatical at Agder University College in Kristiansand in southern Norway also was a learning experience for his family, which accompanied him. "The kids attended school there and learned Norwegian, and we got to spend a lot of time with each other and with my mother's family."
Wolcott is indeed well-traveled. "I was born in New Jersey, grew up in New England, lived in California, went to school in Arizona and worked in Alabama. By the time I came to UNO, everyone I knew lived within 100 miles of either the oceans or Mexico. I didn't know anyone in the Heartland."
His research builds upon his interest in the world and the Internet. He has authored or co-authored several articles relating to "The Global Diffusion of the Internet," a project that examines the proliferation of the Internet in other countries "to capture the history of the Internet as it unfolds."
Much can be learned from the project, such as the Internet's role in promoting economic growth and social and human development. But it has to be learned quickly, Wolcott says.
"Being electronic, the information available on the Internet is extremely perishable," he says. "We have books that are 200 years old. We have hieroglyphics that are thousands of years old. Yet, a Word document we put together today, if it's even readable in 20 years, that would be amazing."
Media Contact
If you have a story idea, news tip or inquiry please contact:
Amanda Rucker, Communication Specialist, College of Information Science & Technology
arucker@unomaha.edu • 402.554.2070