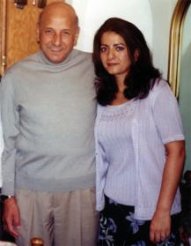 Farida Majid, academic advisor at UNO's College of Information Science&Technology (IS&T), knows that higher education can lead to more than a successful career.
In her case, it helped lead to freedom.
A native of Afghanistan, Majid was about 7 years old when the Soviet Union invaded her homeland in 1979. Her father, a well-educated man with a doctorate in education, had been working on various U.S.-supported projects, including Peace Corps.
"The Russians wanted to recruit him for their purposes," Majid recalls. "They wanted him to be a part of the Communist government. When he refused and questioned their education policies, he was seen as a threat by them, so he was placed in prison."
Friends helped gain her father's release and in 1982, when she was 10, her parents took her and her five siblings on a perilous journey to escape Afghanistan by traveling through the mountains into Pakistan.
"For four days and three nights we walked and rode donkeys and camels. We carried only a few clothes and some food. We left everything else behind.
"It was very frightening. We knew that if we were caught we would either be killed or placed in prison. At times we were not allowed to cough or speak, as we might be heard and shot."
Their journey led to Omaha in 1983 when the family's immigration case was sponsored by Thomas Goutierre, dean of International Studies and Programs and director of the Center for Afghanistan Studies at UNO.
Majid's father, Dr. Moqin Rahmanzai, worked for the Center for Afghanistan Studies for three years before returning to Pakistan to take part in a UNO cross-border education support project for Afghanistan. Today, Rahmanzai continues to work on projects relating to the reforming and restructuring of the post-Russian occupation education system in Afghanistan.
Majid obtained a bachelor's degree in biology and a master's degree in counseling with a concentration in student affairs practice in higher education, both from UNO. She worked as a graduate assistant at the university before being hired as an academic counselor at IS&T in May 1999.
Two of her three older brothers, as well as her two sisters, also are UNO grads.
Majid serves as advisor for undergraduate students at the college. She monitors progress and development, conducts graduation audits and senior checks, and works with many of the scholarship students.
"I love it," she says. "It's personally rewarding to be able to work with such a highly qualified group of students."
When she meets with prospective students and their parents, she touts the strong programs IS&T and the Peter Kiewit Institute offer, and the unique relationships the institute has forged with the business community locally and nationally.
"People are quite intrigued by the fact our programs compete well with those offered by other universities," she says, "but when they see the facilities and meet the faculty, they are even more impressed."
For anyone who doubts the value of higher education, Majid has a very personal story to share.
"If my father would not have been well educated, well-rounded in experience, we would not have had the opportunity to come to the United States," she says. "His education and his connection to other individuals helped save our lives."
Media Contact
If you have a story idea, news tip or inquiry please contact:
Amanda Rucker, Communication Specialist, College of Information Science & Technology
arucker@unomaha.edu • 402.554.2070