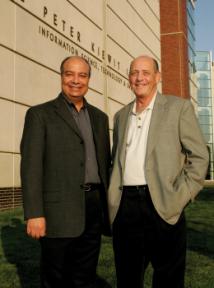 Dr. Hesham Ali, new dean of UNO's College of Information Science & Technology (IS&T), says he will continue to welcome visitors to his office, as did his predecessor, retiring Dean David Hinton.
"His door was always open to students, faculty, staff and alumni who were either seeking his advice or offering their input," Ali says. "I plan to follow in his footsteps in that regard."
Ali took over as dean Aug. 1. Previously he served as associate dean for academic affairs and professor of computer science. Born in Alexandria, Egypt, he received his master's and bachelor's degrees from Alexandria University and his Ph.D. from the University of Nebraska-Lincoln.
He is widely recognized for his work in bioinformatics, mobile computing and wireless networks, including a project called "Wireless Omaha" (see article in spring 2006 Alum). He is the recipient as principal or co-principal investigator of more than $6 million in research funding and is the co-author of two books, two dozen refereed journal articles and more than 70 other articles.
The College of IS&T includes the departments of computer science and information systems and quantitative analysis, as well as programs in bioinformatics, telecommunications, information assurance and a doctorate program in information technology (IT).
The college also is home to the Center for the Management of Information Technology, the International Academy for Advanced Decision Support, the Nebraska University Consortium on Information Assurance (NUCIA), and the newly formed Institute for Collaboration Science (in partnership with the UNO College of Business Administration). IS&T also is a partner with the University of Nebraska-Lincoln College of Engineering in the Peter Kiewit Institute on UNO's Ak-Sar-Ben campus.
"What we have in the college is a marvelous balance of education advancing our core of information technology programs, and our ability to help other entities advance through the incorporation of our IT components," Ali says. "This enables the college to impact the community far beyond the campus boundaries.
"By working with business, industry and non-profit agencies and organizations, we can play a significant role in making Omaha one of the most technology-friendly metropolitan areas in the nation."
Hinton became dean of IS&T in 2001 after serving 15 years as dean of UNO's College of Public Affairs and Community Service (CPACS). His retirement marks 34 years at UNO.
In his five years at IS&T, Hinton helped develop the doctoral program in information technology and the undergraduate degree program in bioinformatics. He played a significant role in NUCIA being designated a National Center of Academic Excellence in Information Assurance by the National Security Agency. In 2001, NUCIA was one of the first 20 centers to receive the designation.
Hinton calls his time as IS&T dean a personally-rewarding honor. "I worked with an excellent faculty and staff, and an especially outstanding group of students," he says. "Watching more than 1,200 receive their degrees was more than ample reward to me."
There are grand things ahead for the college, Hinton says. "I believe the college is at a stage of maturity where it can launch more educational offerings and programs and engage in even more cutting-edge research," he says. "I know Hesham Ali is well qualified to help the college continue to grow and contribute, and I look forward to watching from the sidelines."
Media Contact
If you have a story idea, news tip or inquiry please contact:
Amanda Rucker, Communication Specialist, College of Information Science & Technology
arucker@unomaha.edu • 402.554.2070