Professor Victor Winter: In for the Long Haul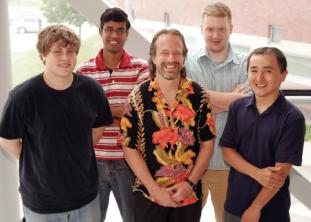 Back when Victor Winter was a college student playing piano in a rock band in Albuquerque, N.M., his fellow band members urged him to drop out and join their quest for a recording contract.
He turned them down, choosing instead to focus on "the long run."
Today, Winter is an associate professor of computer science at UNO's College of Information Science and Technology. He still has a passion for music and for considering the long-term consequences when it comes to teaching, research and his students.
"Research helps students develop problem-solving skills that are difficult, if not impossible, to pick up in a traditional classroom setting," he says. "Solving a research problem requires patience, perseverance, initiative and a long-term view."
Those problem-solving skills are highly valued in industry, Winter says. "Facing a vaguely defined problem, an experienced professional will see an 'opportunity' for a creative solution. An inexperienced person will see only chaos."
Winter's students have benefited from his perspective.
Prior to coming to UNO in 2001, Winter worked at Sandia National Laboratories in Albuquerque. Sandia is a government-owned, contractor-operated facility with diverse operations ranging from research in military and energy technologies to providing stewardship over the nation's nuclear stockpile.
Winter has kept active his connection with Sandia, conducting research projects, obtaining grants and helping secure internships and jobs for IS&T students and grads.
"Sandia is a fabulous place to work," he says. "Internships there are 'enablers.' They look great on a resume and they open doors."
It did for Brent Kucera. An intern at Sandia the summer of 2004, Kucera graduated in May 2005 with a bachelor's degree in computer science. Today, the 23-year-old is employed full time at Sandia working with Field Programmable Gate Arrays.
"I was always interested in programming, starting when I was 13 or 14," Kucera says. "Victor Winter stretched me past regular programming to find my potential."
Kucera praises Winter, Dr. Blaine Burnham and other IS&T faculty for taking the time to get involved with students. "I talked with some friends, and compared to their college experiences, the teachers at IS&T aren't weeding people out but helping them to succeed. That puts UNO programs way above other programs."
Jason Beranek graduated in May 2005 with a bachelor's degree in computer science. Based in part on a recommendation from Winter, the 24-year-old got a job as a system software engineer with the MITRE Corp., a federally-funded, not-for-profit research and development organization whose Department of Defense clients include U.S. Strategic Command at Offutt Air Force Base.
"Victor got me involved in more research-based computer science than what the normal class load required," Beranek says. "Without that, there would have been no chance to have the job I have today."
Winter says IS&T presents students a unique variety of projects from which to choose. "We can get you to the river," he says. "What you drink and how much is up to you."
As for that rock band back in Albuquerque, it did get a recording contract and a shot at fame.
"But in the long run," Winter says, "it didn't last."
Media Contact
If you have a story idea, news tip or inquiry please contact:
Amanda Rucker, Communication Specialist, College of Information Science & Technology
arucker@unomaha.edu • 402.554.2070