Indian Institute Students Take in Global Focus at UNO Workshop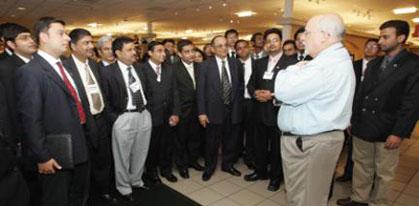 The students were from the Vinod Gupta School of Management at IIT. Gupta, founder, chairman and CEO of Omaha-headquartered infoUSA, Inc., is a 1967 graduate of IIT Kharagpur, near Kolkata. He created the IIT Foundation and the school which bears his name. InfoUSA President Rakesh Gupta (no relation to Vinod) also is an IIT graduate and assisted in developing the IIT/UNO program.
The students' visit was sponsored by infoUSA and hosted by UNO's International Studies and Programs, College of Business Administration (CBA) and College of Information Science and Technology (IS&T). UNO and IIT signed a sister university affiliation agreement in 2004 that has brought six students, two at a time, to study at IS&T.
To further this relationship and make a larger impact on the lives of students, infoUSA's Vin Gupta and IIT administrators signed an agreement with UNO to fund three years of student exchange groups. This was the first of three groups from IIT to visit UNO. Three groups of UNO students will have a similar one-week program in India. Gupta and infoUSA fund all but the students' airfare.
"Bringing in a group of 60 at one time is really a grand way to kick off our 'sister university' relationship with IIT," says Merry Ellen Turner, director of International Programs at UNO.
While in Omaha, the IIT group visited Gallup University and the offices of ConAgra Foods, infoUSA, Berkshire Hathaway and Union Pacific. They toured Nebraska Furniture Mart and had lunch with Berkshire Hathaway Chairman Warren Buffett.
"The interaction has given us a real perspective on the community and America," says Anushka Nagban, a 24-year-old MBA student. "I loved meeting with the teachers and the business leaders."
MBA graduate Shilpi, 25, says she was impressed by UNO's global focus, "which we miss sometimes in India."
IS&T Professor Deepak Khazanchi also is an IIT Kharagpur graduate. "The IIT students commented that this has been a life-changing experience for them," he says. "The UNO faculty and Omaha executives who met with the students spoke of being enriched by the experience."
As did several IIT faculty members.
"The humbleness and readiness of the faculty and corporate leaders to exchange ideas in a very precise way is extremely impressive," says Professor Sadhan K. De. "Chancellor (Nancy) Belck, the vice chancellor and the deans all speak in a single voice about the university's goals of student focus, academic excellence and community engagement. Our faculty shares those goals."
IIT Professor H.R. Tewari says the relationship forged by Vinod Gupta and the two institutions should expand. "Our eagerness to meet the challenges together, not to live in isolation, is something very significant. We'd like to further it."
Wide Focus
Sessions attended by groups visiting UNO from the Indian Institute of Technology-Kharagpur were led by faculty from the College of Business Administration, assisted by faculty at the College of Information Science and Technology. Topics included:
Strategic leadership;
Global business and finance;
Innovation management;
Creativity and entrepreneurial planning;
Facilitation of electronic collaboration using information technology; and,
E-commerce and marketing in a high tech environment
Media Contact
If you have a story idea, news tip or inquiry please contact:
Amanda Rucker, Communication Specialist, College of Information Science & Technology
arucker@unomaha.edu • 402.554.2070