Fostering diversity with a handshake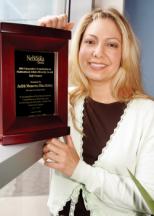 She finds it difficult to let go.
"I see so many bright kids who have so much to offer," says Kelsey, student recruiter for the College of Information Science and Technology (IS&T). "I just want them all to give higher education a shot."
For six years the Sioux City, Iowa, native has served as IS&T's student recruiter and academic advisor. In April she was named the staff recipient of the Chancellor's Commission on Multicultural Affairs Diversity Award. A nominator wrote that the notoriety UNO has received regarding multicultural opportunities "is a direct result of Judy's selfless hard work bringing our students and community together."
She is no stranger to hard work or to the value of pursuing a dream. Her father, Juan Monarrez, toiled in the meatpacking plants in Sioux City and Omaha. Her mother, Gloria, cleaned houses, did some factory work and worked in restaurants. Today her parents are the proud owners of Club Mex, a restaurant near 93rd and Maple Streets that has built a satisfied and loyal following for more than 15 years.
Kelsey earned a bachelor's degree in psychology and a master's in counseling from UNO. The first of the three Monarrez children to attend college, she personally relates to the uncertainty many young women and minority youths experience in similar situations.
"It's a very new, difficult, maybe even scary experience for some of these families," she says. "Their parents may have only an elementary school education, yet they came here to find better educational opportunities for their children. I can help."
The IS&T recruitment effort includes summer workshops for computer-savvy students as young as 11 up to high school age, as well as opportunities for the public to tour the Peter Kiewit Institute.
Kelsey tracks kids' current technology interests while visiting area high schools, participating in college fairs and talking with her 14-year-old son, Jovan. "He's who I consult with to find out what the kids might like in the summer workshops. If I can impress him, I know I can keep them interested."
She is seeing results. "Little by little, our diversity here at IS&T is improving."
The scarcity of women and minorities studying information technology is a national trend, she says. "It's not just a UNO problem."
To boost those enrollments, Kelsey has helped organize events including "Diversity in Information Science&Technology Week" and "Latino Day for the College of IS&T and Engineering."
She and others, including Doug Bahle, coordinator of the Peter Kiewit Institute (PKI) Career Resource Center, are committed to turning degrees into careers. Bahle keeps students posted on hundreds of job and internship openings through emails and personal visits.
"We work together to make it as easy as possible for students to achieve their academic goals," she says. "There's really no reason for them to wonder where they will work after graduation. They can pick and choose where they'll go.
"From the resources that we bring directly to our students, to the supportive faculty and staff, I don't think it gets any better."
She loves to prove it, starting with a handshake.
Media Contact
If you have a story idea, news tip or inquiry please contact:
Amanda Rucker, Communication Specialist, College of Information Science & Technology
arucker@unomaha.edu • 402.554.2070