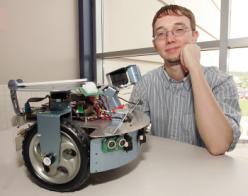 "Right now, the big wheel on one side is turning slightly faster than the other side. That makes it curve a little," he explains apologetically, "but we'll fix it."
"Yellow" is the second generation of five robots Williams and other students have programmed as part of a wireless remote robotics project at UNO's College of Information Science&Technology (IS&T).
Rather than give the backpack-sized, floor-hugging robots traditional names, they are referred to simply by their color.
Along with Assistant Professor Jon Youn and others, Williams has been working since January on a project that will allow Yellow, Blue and the other "bots" to interact with and be tracked by wireless sensors. The grant-funded project has many commercial applications, including facility security.
"For example, the robots could automatically patrol the halls in a building, using their ultrasonic and infrared sensors to detect open doors, break-ins or the heat of an intruder," Williams says. "We also can put a sensor on the robot and track it through the building's wireless sensor network."
The native of Elk Horn, Iowa, says linking the College of IS&T and the University of Nebraska College of Engineering within the Peter Kiewit Institute provides students with unique opportunities.
"It's a great environment, having engineering and IS&T side-by-side. Sometimes we need circuits soldered, sometimes they need software, and we're right around the corner from each other. It creates a synergy that's beneficial to both."
As for his professional career, Williams has options.
"I can see myself in the corporate field, then taking that experience and applying it to a classroom, because I love the college environment. In the classroom, I could use my corporate experience to focus on the functional part of the lesson, not just the theory."
Media Contact
If you have a story idea, news tip or inquiry please contact:
Amanda Rucker, Communication Specialist, College of Information Science & Technology
arucker@unomaha.edu • 402.554.2070