Making connections for a 'Wireless Omaha'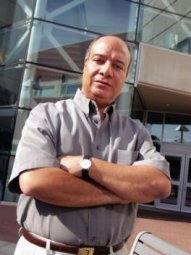 Imagine a free, secure, city-wide wireless infrastructure that would allow you to use your PDA to send and receive emails while your children play at an Omaha park. Or check from your laptop the arrival of a friend's flight at Eppley Airfield as you run last-minute errands around town.
That's the goal of "Wireless Omaha," a project headed by Hesham Ali of UNO's College of Information Science&Technology (IS&T). Ali is a professor of computer science and associate dean for academic affairs at the college.
Wireless access throughout the city would be useful to local residents and could also advance the image of Omaha as a rising star in the world of information technology. "Several other cities have undertaken similar projects but on different, more limited scales," Ali says. "Omaha would probably be the first city with this kind of major wireless infrastructure. This kind of service would integrate very well with the city's efforts to attract information technology companies and employees."
Ali emphasizes that the free service is meant to complement what the city's wireless service providers currently offer.
"We are not in competition for their business. We want to work together with businesses as our partners, including the major communication providers.
"As we have designed it, the infrastructure does not support running a business or transferring a large amount of data. It is meant to allow users free connectivity for basic, simple data transfers, like checking email or visiting a website."
Wireless Omaha sprang from another project, "Wireless Nebraska," partially funded by the National Science Foundation. That project, which would involve creating high-speed wireless access throughout the state, is awaiting completion of the Wireless Omaha project, Ali says.
Wireless Omaha is being implemented in phases. The UNO campus has the infrastructure, as does Rosenblatt Stadium, which was completed in time for the 2005 NCAA Men's College World Series. It was utilized by sports journalists and spectators to check emails and send brief messages, Ali says.
The current phase involves establishing the infrastructure in the downtown and riverfront areas, as well as in some inner-city parks.
"By placing the free service in low-income areas of the city, we could address the issue of a digital divide existing between those areas and other areas of Omaha where Internet access is more readily available.
"We plan to create pockets of service, then work to connect those pockets. Along the way, we will piggyback off existing wireless facilities, such as those in other educational facilities around the city."
Wireless Omaha would work to ensure that the security and separation for businesses that allow use of their networks would be preserved. Software, filters and other measures would provide logical separations between business and public use, and attempt to eliminate the possibility of the free wireless service being used for improper or inappropriate activity.
The infrastructure may actually work to prevent and solve some crimes, Ali says. "For example, sensors could be placed in laptop computers and other expensive equipment and if the equipment was stolen, this kind of wireless infrastructure could track the stolen items."
Ali hopes to complete the "community network" of Wireless Omaha within two years.
IS&T students have been involved in every aspect of the project since its inception, from installing the infrastructure at Rosenblatt Stadium to simulating actual environments at the college's testbed facility.
"They solve real-time, real-world problems like equipment placement, connectivity to access points and how to avoid interference with other signals," he says.
"And, in the case of the Rosenblatt installation, they got free tickets to attend some of the ballgames."
Media Contact
If you have a story idea, news tip or inquiry please contact:
Amanda Rucker, Communication Specialist, College of Information Science & Technology
arucker@unomaha.edu • 402.554.2070