Students of 'Attic' preserve historic event on Web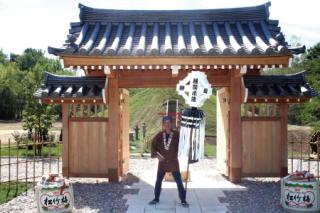 The Attic, a group of UNO College of Information Science & Technology students who have an interest in Web design and multimedia presentation technologies, is documenting for history the Sunpu Gate project at Lauritzen Gardens-Omaha's Botanical Center.
The Sunpu Gate (pictured) in place at Lauritzen Gardens is a replica of the entrance gate at the Sunpu Castle in Omaha's sister city, Shizuoka, Japan. It commemorates the 40th anniversary of the Omaha Sister Cities Association relationship with Shizuoka.
Initially tasked with designing, hosting and updating data on the Sunpu Gate website (www.omahasunpugate.org), the students of The Attic have taken their work a step further by permanently recording for future generations of Japanese and Americans the construction and installation of the gate and the dedication ceremonies.
Zac Fowler, Sunpu Gate project manager at IS&T, says documenting the gate's construction through words and extensive photos placed on the website has allowed people in Omaha and Shizuoka to share the experience. Content is provided by Mel Bohn, vice president of communications for the sister cities association; photos are provided by Bohn and Omahan Steve Adams; IS&T senior Tim Hemmer designs the page layout and the graphics.
"We also produced a video slideshow that was shown during the dedication luncheon October 1," Fowler says. "The slideshow was put together to show each stage of the construction process using photos taken by Mel and Steve. Copies of the website and slideshow were sent to Japan by Larry Uebner, chairman of the sister cities association."
Fowler, who serves as project manager for the Lewis, Clark and Beyond Web project (www.lewisclarkandbeyond.com), a collaboration between the Peter Kiewit Institute and the National Park Service's Lewis & Clark National Historic Trail, says the Sunpu Gate site was the first start-to-finish project for The Attic.
"The Attic is a collection of students, both undergraduate and postgraduate, who have or are learning skills in HTML, PHP, Flash, MySQL, XML, GIS systems, video editing, audio production and 3D modeling, to name a few," he says. "They take on Web site projects for non-profit organizations in the community.
"The intent is to research new ways to use technologies and present information in an interesting and understandable form, while preserving data relationships across multiple platforms and systems." He says students of The Attic are proud of their work with the Sunpu Gate project. "Websites come and go, but what we've done is help produce a permanent record of an historic event."
More information about The Attic can be found at http://attic.ist.unomaha.edu.
Media Contact
If you have a story idea, news tip or inquiry please contact:
Amanda Rucker, Communication Specialist, College of Information Science & Technology
arucker@unomaha.edu • 402.554.2070