IS&T interns excel at Omaha software firm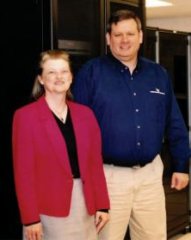 Seven years ago, when it was suggested that the principals at Baldwin Hackett & Meeks Inc. (BHMI) consider hiring interns, they weren't quite sure what to expect.
"We wondered what kind of assignments we could come up with that would be of use to them and yet still accomplish our goals," recalls Michael Meeks, senior vice president of the software applications development corporation (pictured with Lynne Baldwin).
The answer? Give the interns from the College of Information Science & Technology (IS&T) at UNO and other universities the opportunity to work on challenging assignments similar to those delegated to the 65 full-time employees at the firm's Corporate Development Center in Omaha. The assignments are scaled to fit with students' academic demands, yet are meaningful contributions to projects.
The results have been impressive, says Meeks. "This is a fairly complex development environment that we throw them into. They have faced a wide range of pretty demanding work, and they've done well."
For example, interns at BHMI have:
Built a measurement harness to drive software and gauge its performance in detail;
Conducted volume testing to define performance targets;
Developed user and Web interfaces and configured software simulators;
Made detailed presentations documenting their work to various groups at BHMI.
Large scopes, teamwork
"When interns come into some companies, they get bite-sized projects that they can complete quickly and move on," Meeks says. "Here they get to participate in projects of a large scope, with lots of people working in teams. In my opinion, finding out what it takes to work as a team is the biggest eye-opener they can get."
Real-world projects yield rewards for the interns, the businesses they serve and the university.
"We have hired several former interns," says Lynne Baldwin, Ph.D., president of BHMI. "In turn, the university has tapped some of our interns as research and graduate assistants. It has been a beneficial relationship to everyone involved."
Baldwin founded the company in 1986 with her husband, Jack T. Baldwin, Ph.D., who currently serves as chairman. Meeks is a 1979 UNO graduate, having earned a bachelor's degree in computer science. He was recruited to join the firm in 1987 by Lynne Baldwin, who had served as his advisor at UNO.
Meeks gives the company its technical direction, helping direct and manage the methods BHMI uses to develop software for clients that include the Federal Aviation Administration, MCI, Greyhound Lines and Union Pacific Railroad.
The majority of the interns BHMI hires are from the Peter Kiewit Institute and UNO. The quality of the applicants sets them apart, Meeks says.
"It's been nice to see people come in fairly up-to-date on the latest technologies," he says.
The skill sets that BHMI looks for when considering internship applicants include object-oriented design and development, knowledge of relational databases, understanding Web technology, and performance testing. "Whether it's JAVA or C++, Oracle or DB2 isn't really the issue," Meeks says. "That they understand the concepts is more important."
Ultimately, being able to function and produce as a member of a team may be the most sought-after quality, he says. "Managing large bodies of software with multiple people working on it - even basic exposure to that would benefit them."
And benefit BHMI and the other business partners who put IS&T interns to work.
Media Contact
If you have a story idea, news tip or inquiry please contact:
Amanda Rucker, Communication Specialist, College of Information Science & Technology
arucker@unomaha.edu • 402.554.2070