IS&T Students Learn While Serving Omaha Community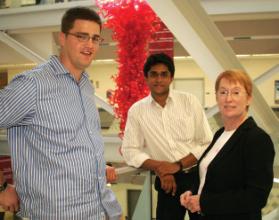 James Peters knows the value of the work he, Piyush Shah and other students at the College of Information Science & Technology (IS&T) did for the City of Omaha when they designed and developed the Web-based information systems that give citizens access to the Mayor's Hotline via the Internet.
That's because he's used the Internet hotline himself-to report graffiti along the Keystone Trail.
"It works very well," Peters says (pictured above at left with Shah, center, and Dufner). "The City responds quickly."
Making it easier for Omahans to report and track comments and complaints made electronically to the Mayor's Hotline is just one example of the service learning projects undertaken by the students of Dr. Donna Dufner, associate professor of Information Systems and Quantitative Analysis (ISQA) at IS&T.
The service learning aspect of Dufner's classes unites bright, eager students with clients throughout the city whose needs vary from basic computer training to the development and implementation of complex integrated systems.
These projects frequently generate other opportunities, such as jobs or internships, because the clients are so satisfied with the products that they want to hire the students.
"It's quality work from start to finish, something these clients would have to pay a consultant $1,000 a day to develop," Dufner says.
In addition to the satisfaction that accompanies a successful project, the students receive a Presidential Service Award, including a pin and a letter from President Bush.
Dufner is a veteran of the corporate world, having worked 15 years in the information technology industry for AT&T, Chemical Bank Corp., ARDIS (a joint venture of IBM and Motorola), Bell Atlantic Nynex, the City of Omaha, and Douglas County, Neb.
A native of Greensburg, Pa., she holds an MS in computer and information science from the New Jersey Institute of Technology, an MBA from the University of Chicago, and a Ph.D. in computer and information science management from Rutgers. She is a certified Project Management Professional.
She decided to make the switch to teaching after receiving her PhD in 1996. "It was a good decision, because the students love the fact I have real industry experience."
Before joining UNO in 2000, Dufner taught for three years at the University of Illinois, where in 1998 she was named a University Scholar for excellence in teaching and research, the highest honor awarded by the university.
"I loved the University of Illinois," she says. "My main incentive to come to UNO was that the job involved working in the community through service learning projects. I need that. I need more than just the classroom teaching."
Her areas of expertise are telecommunications and information systems design, development and implementation. Her professional and research interests include project management, public sector information technology, virtual "collaboratories" and asynchronous learning networks.
In training students to one day work with big-budget information and telecommunications systems, they also must learn how to deal with clients and project managers, those who are stakeholders in the in the outcome. Not all clients are as high profile as the City of Omaha. Some, such as those who are the subject of this fall's service learning projects in south Omaha, are small business owners and entrepreneurs.
"Some of it amounts to teaching basic word processing skills and publishing skills, things they can apply to their new businesses," Dufner says. "For many of our clients this fall, we're basically opening the door to communications."
Many of the clients are Spanish-speaking and must learn through an interpreter, Dufner says. "This is a marvelous way for them to learn about a part of the community they are not familiar with. Some of our students are from small towns and have had very limited exposure to the many ethnic groups we have in Omaha.
"The students are very excited about these projects. They are looking forward to the cross-cultural experience, as well as the learning experience."
Students involved in the fall course come mainly from IS&T, with more than half from the UNO Honors program. "So we're sending the very best we have to offer out into the community," Dufner says.
The benefits are many.
"The students are able to serve the community, and in the process they learn what service means and how to integrate it into their lives," Dufner says. "I think that through service learning projects, we're turning out more well-rounded people, in terms of their contributions to society."
Dufner says she was very involved in community service projects when she worked in the corporate world. "I just brought it with me when I started teaching."
She continues to develop her own sense of community, both through her students' work and through programs in Omaha, such as her participation in the 2004-2005 Leadership Omaha program.
Sponsored by the Greater Omaha Chamber of Commerce Foundation, Leadership Omaha is a community leadership training program designed to motivate individuals to develop a sense of community trusteeship, encourage participants to assume leadership roles in community affairs, develop participant awareness of the Omaha community, and provide opportunities for communication between emerging and established leadership.
The work with the Mayor's Hotline was the result of pro-bono work Dufner had done for the mayor's office. She had worked as the project manager for a public information system for the juvenile justice system, one that would link several sources of information into one, providing a more complete background about offenders.
Making the Mayor's Hotline available via the Internet allows citizens to easily report complaints and track the progress of their report. It provides a tracking number that is used to ensure no complaint goes unattended.
Peters, 25, earned his master's degree in management information systems (MIS) from UNO in May. He says the Mayor's Hotline project provided real-time practical training and an opportunity to represent the university. "It was a good experience."
Shah, a 25-year-old from Bombay, India, who earned his master's degree in MIS from UNO in 2004, says the service learning project was personally rewarding. A federal grant paid for Peter's and Shah's time and tuition costs.
"I learned a lot, starting with how to talk to and deal with the users," Shah says. "The whole project involved a lot of presentations which definitely improved my skills in communication, technology, project management and scheduling. And, I was able to help develop an excellent product that benefits the City of Omaha and the Omaha citizens."
Through serving learning projects like this, Dufner says, success is shared by students, clients and the community.
Media Contact
If you have a story idea, news tip or inquiry please contact:
Amanda Rucker, Communication Specialist, College of Information Science & Technology
arucker@unomaha.edu • 402.554.2070