IS&T interns, Gallup partner on high-tech visualization lab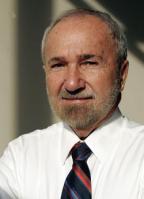 A high-tech visualization lab on the Gallup University riverfront campus teams UNO student interns with Gallup employees to revolutionize the way data is presented.
The 2,000-square-foot facility features the latest in hardware and software visualization methods and technologies. It brings together 10 Gallup employees and 10 UNO interns.
"The purpose is to create innovative tools to visualize data with an emphasis on design, aesthetics and state-of-the-art software technology" says Dr. Gerald Wagner (pictured), a distinguished research fellow at the Peter Kiewit Institute, College of Information Science & Technology (IS&T) at UNO.
It means scholarships and employment opportunities for UNO students and innovative new software products geared to satisfy Gallup clients.
Philip Ruhlman, chief information officer of the Gallup Organization, says the process reverses how Gallup has traditionally worked with its clients. "Rather than begin by collecting the data for a client, we will start with determining how the client ultimately wants to see the data and then work backwards."
Gallup clients visit the Omaha campus for two-day retreats, during which they work with the teams to specify how they want their data to look.
"We want this to be a fantastic two-day experience for them," Ruhlman says. "They will be a part of something so spectacular and creative they never would have dreamed it could happen."
Gallup for more than two years has utilized UNO interns, selected from among the students of One Innovation Place (One IP), a program started by Wagner at the College of IS&T. One IP recruits and prepares the best and brightest students and puts them to work as interns for some of the area's largest and most prestigious companies.
The UNO interns and Gallup employees work in five teams. Each team works with a Gallup client to create new ways of presenting data. Wagner mentors and guides the interns.
Additionally, 30 students are involved in Visual Storytelling and Data Visualization, a course facilitated by Wagner in the Gallup facility. Nine speakers who are the Who's Who in the field each will give two-hour lectures on nine Fridays during the fall semester. Gallup is financially making this course possible.
Also, more than $15,000 in awards has been pledged from various businesses to recognize the most outstanding final student projects. "We want to give the entire Omaha a community an opportunity to meet and listen to these leaders," Wagner says. "Therefore, we will have one-hour seminars for the business, government, military, and academic community from 7:30 to 8:30 a.m. on the same days. These will also be at Gallup and there is no fee for attending."
The idea for the visualization lab sprang from a meeting between Wagner, who is a member of the Gallup Senior Scientist program, and Ruhlman, whose background includes significant theater work.
"Dr. Wagner and I share the concept of taking very gifted artists, whether their gift is art or music or dance, and who also have a gift for technology, and bringing the two together in an incredible marriage," Ruhlman says. "Utilizing that combination of gifts will yield success for the students and our clients."
Media Contact
If you have a story idea, news tip or inquiry please contact:
Amanda Rucker, Communication Specialist, College of Information Science & Technology
arucker@unomaha.edu • 402.554.2070