Fulkerson finds his dreams in the classroom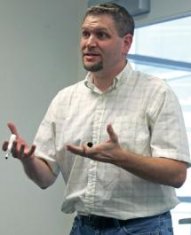 About 10 years ago, Robert Fulkerson was working at a telecommunications company when some friends approached him about starting an Internet Service Provider.
Trouble was, the time commitment for a new business would conflict with his job. That's when a friend told him there was a teaching position open at UNO.
"I thought, 'Hey, if I got a job as a teacher I'd have all this free time to start up a multimillion-dollar business,'" Fulkerson recalls.
He got the UNO job, and it didn't take long for reality to slap him hard in the face. "After working 70 hours a week for a year at both jobs, I realized teaching was not the dream job I thought of."
Today, he's still at UNO, working as a full-time instructor in the College of Information Science & Technology.
It isn't that he abandoned his dreams. He simply replaced them with new ones.
"Teaching ended up being what I love more than what I thought I was going to love," he says.
Fulkerson is more than a teacher. He's a popular teacher, a wise, witty and imaginative one whom students remember long after they receive their final grade. In 1999 he was nominated for the Excellence in Teaching Award, and he received the Alumni Outstanding Teaching Award.
Fulkerson, 34, is an Omaha native and a 1989 graduate of Millard South. He attended Creighton University and received his bachelor's degree in computer science. He's says he's ABT (All But Thesis) away from receiving his master's in computer science, also from Creighton.
He is a good teacher for many reasons, not the least of which is that he remembers what it's like to be a college student. "I started teaching at 24 years old. I was just a few years older than most of my students. I realized then that I shouldn't ever forget what it was like to be a student. If I do, I'll lose them."
He describes himself as "student-centric."
"I focus on the class. If I stand in front of them and say, 'This is how you do a loop,' that's boring. They might as well bring pillows and blankets to class. I want them to be engaged."
Core students in information technology classes, he explains, are computer science and management information systems (MIS) majors. But the classes also draw from other disciplines, including geography, geology, math and education.
"With that diverse an audience, which is exactly what a class is, an audience, I've got to make it entertaining as well as informative or they won't even attempt to go beyond what's on the page."
People ask how he can teach an introductory class semester after semester.
"It's because every year, there are one or two students who dazzle me. They wrap their brain around something a little differently, and they come up with a solution that's way out of the box. That's when I say, 'Yes!' That's what I was looking for - someone to look at programming differently.
"I tell them right from the start, 'Don't expect it all to be fun and games. But it will be as interesting as you want to make it.' The challenge is mine as well. Not that I can win over everybody. But those who come into my class that are on the edge or are already interested in the material, hopefully I can fuel their fires even more."
He enjoys teaching at UNO and the progressive nature of the Peter Kiewit Institute.
"A lot of the students in our discipline today just want to go out and make money. They don't have to come to UNO for that; they can go to a two-year college or get certified in various skills. We've got to make them want to come to UNO, to show them that they need to come to UNO for a complete information technology education. Our primary job as educators is to provide the theory behind the applications they'll see in the workforce.
"PKI offers many unique opportunities with internships, business partnerships and cutting-edge classes. With classes in Web development and information security, for example, we're offering more practical, hands-on classes that help make UNO a hybrid of a traditional four-year college and a training or certification program. Students leave PKI with useful, real-world skills supported by the theory of computation."
Sometimes it involves changing the way computer scientists think about their discipline.
"Computer science as a whole has to adapt to the fact that this is not biology. It's not physics. Most of our students don't go on to make grand discoveries that change the world. They've already set a career goal for themselves. They come here to get it started."
He says his methods aren't unique.
"I treat my classroom so it's not like I'm on this side of the desk and they're on that side. I look at my role more like a collaboration in their education."
It serves to enhance the experience for both teacher and student.
"In my Internet programming class, especially, the students are constantly suggesting new things to cover or discuss, and that gets me excited. I feed off their excitement in the classroom."
PKI students have phenomenal abilities, Fulkerson says.
"The students coming in today are simply amazing. They're so smart it's scary. I think they have raised the bar, which means we teachers have to step it up a notch. They push you to be a better teacher."
Fulkerson met his wife, Kris, in junior high and began dating when both wrote for the school newspaper at Millard South. "I tried to date all her friends first," he recalls, chuckling. "I sent them flowers, wrote them poems, took them to plays - and got dumped. All the time, she's wondering, 'What's wrong with these girls? Can't they see what a wonderful guy he is?'
They were married in 1994. "She was not the last choice," Fulkerson says. "She was the best choice."
The Fulkersons have two daughters, Katie, 2, and Becca, six months. Kris Fulkerson teaches English at Metropolitan Community College and writes essays. Fulkerson writes essays, short stories and poetry, "although I'm not a great poet by any measure."
His website includes reviews he's written about the music concerts he's attended. He also writes movie reviews, which leads us to his current dream. "What I would like to write, what everyone would like to write, is a movie. I have two script ideas in my head. I just have to put them on paper."
It's not a new dream, he says. "My goal was that by the time I was 35 I would have made a movie and have it shown somewhere, even if it was on a wall in a garage."
That's not likely by his 35th birthday in December. But, perhaps, some day soon, he'll write the script that will become the next big-screen blockbuster.
Then he'll have all that free time left over for teaching.
Media Contact
If you have a story idea, news tip or inquiry please contact:
Amanda Rucker, Communication Specialist, College of Information Science & Technology
arucker@unomaha.edu • 402.554.2070