AMCIS conference held at Qwest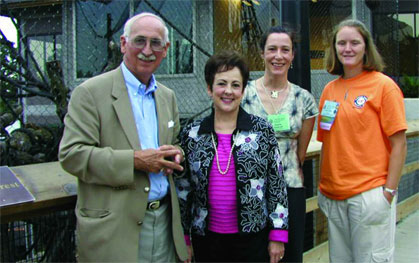 More than 1,050 participants from 400 universities and 40 countries met at Qwest Center Omaha in August for the 11th annual Americas Conference on Information Systems (AMCIS).
Sponsored by the Association for Information Systems (AIS), AMCIS is a gathering of information systems academics and research-oriented practitioners in North America, Central America and South America.
Conference chairpersons were Dr. Deepak Khazanchi and Dr. Ilze Zigurs, professors in the department of Information Systems and Quantitative Analysis (ISQA) at UNO's College of Information Science & Technology (IS&T).
The pair was instrumental in bringing the conference to Omaha.
"This was the first time that an AMCIS conference was held in the 'heartland' - the very center of the United States, with a record level of corporate sponsorship, including Union Pacific, Mutual of Omaha, First National Bank and the Peter Kiewit Institute," says Dr. David Hinton, IS&T dean.
Two internationally renowned leaders in their fields gave keynote addresses. Linda Sanford, IBM's senior vice president for Enterprise On Demand Transformation and Information Technology, spoke Aug. 12. Dr. Roger Schell, co-founder and president of Aesec Corporation, a new company focused on verifiably secure platforms for e-business, addressed the conference Aug. 13.
Other noteworthy aspects of the conference:
A record number (48) of doctoral consortium participants met at the Arbor Day Farm Lied Lodge and Conference Center and for the first time a sponsor (Union Pacific) underwrote their costs. Dr. Varun Grover of Clemson University and Dr. Rajiv Sabherwal of the University of Missouri-St Louis chaired the doctoral consortium.
Also at the Lied Lodge, the first-ever MIS junior faculty camp was held off-site for the first time, with 19 junior faculty participating from the same number of universities. The MIS camp was chaired by Dr. Lynda Applegate of the Harvard Business School and Dr. Blake Ives of the University of Houston.
Dr. Winnie Callahan, executive director of the Peter Kiewit Institute (PKI), led a panel session that included Todd Fishback (DoCenter), Dick Shoemaker (Pinpoint), and Steve Webb (Lockheed Martin). The session, New Models for Academic and Industry Partnerships, focused on PKI.
The opening night reception was held at Omaha's Henry Doorly Zoo. Other local sponsors included PKI, the University of Nebraska Medical Center, Creighton University, UNO, the AIM Institute and the O! Campaign.
Khazanchi shared one of many positive comments received from delegates: "There was a general consensus that this year's meeting was very well managed," said Dr. Dinesh Batra of Florida International University. "We would like to thank you for your efforts in making the conference and meeting memorable and useful."
The Association of Information Systems (AIS) is the premier global organization for academics specializing in information systems, with nearly 5,000 members representing nearly 50 countries from North America, Europe, Asia, Africa and Australia.
AIS sponsors two major conferences, AMCIS and the International Conference on Information Systems (ICIS). Next year's AMCIS conference will be in Acapulco, Mexico.
AMCIS also provides the opportunity for information systems faculty to meet and review the latest offerings from major vendors, publishers and suppliers. The large number of attendees in a dedicated field is a strong draw for major players in the information systems academic marketplace.
Media Contact
If you have a story idea, news tip or inquiry please contact:
Amanda Rucker, Communication Specialist, College of Information Science & Technology
arucker@unomaha.edu • 402.554.2070