Student teams bring real solutions to real-world problems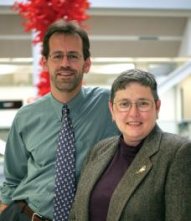 Four real companies, four different problems:
An auto service station records transactions with an outdated, manual paper-based system and seeks to convert to an electronic database.
Business swells for a lawn service, and so do the company's bookkeeping problems – lost billing records, sketchy clientele information and redundant data. A database infrastructure is needed for customer information, billing and daily itineraries.
An emergency medical aircraft operation looks to merge its paper and electronic data sources into a single electronic retrieval system that is fast and accurate.
A popular restaurant bottlenecks during peak hours and considers hiring more employees, which would cut profits. It seeks a web-based solution to streamline workflow and minimize operational costs.
One source for each solution – student teams in the College of Information Science and Technology. Specifically, those students in the Information Systems Analysis and Systems Design & Implementation capstone courses taught by Professors Leah Pietron and Paul van Vliet (pictured below).
Each semester, two dozen businesses, educational institutions and volunteer agencies tap the resources of the award-winning instructors and their eager student teams in a classic win-win. Clients solve their problems in a rapid and reliable manner; students earn valuable experience, six credit hours and a good measure of self-confidence.
"It is an extraordinary opportunity for the students," van Vliet says. "They create a real-world working information system for a real client. They experience the entire system's development life cycle, from idea to fully developed and documented working information system."
The nine-month course requires the completion of nine milestones. It is an intensive, hands-on course that promises hard work bsut also proves to be a fun experience for both teachers and students, Pietron says. "We truly believe for our students to do real-world applications, they have to work with real-world clients," she says.
In doing so, students get to learn from world-class professors.
Pietron, a native North Dakotan, has been teaching since 1979, at UNO since 1985. She was a faculty member in the Information Systems and Quantitative Analysis (ISQA) department of the College of Business Administration for 11 years before moving to the College of IS&T.
Van Vliet came a bit farther to get to UNO-from Lisse in the Netherlands. He first experienced the United States in 1980 as an exchange student in high school. Later, he obtained his doctorate at Oklahoma State University. While there he was recruited to join the faculty at UNO – and was interviewed by Pietron.
Both say they enjoy the opportunity to teach in the modern, expansive Peter Kiewit Institute facility south of UNO's main campus. They also enjoy the challenges presented by the top-notch students who enroll in their capstone courses.
"I have a reputation of being very tough, but being fair in project work and examinations," Pietron says. "I believe in pushing my students to illustrate that they are very capable of achieving the standards that I have established for them."
Van Vliet recalls that when he started at UNO 11 years ago, "My job was very typical in a standard college of business." No longer.
"Now we have this fantastic facility to work in. We have our own college. We have our own major. There is always something exciting going on here."
The two do their best to channel that excitement into the energy that fuels learning. "I enjoy seeing the 'lights come on' when students are able to apply theory to practice," Pietron says. "It is exciting to see them grow and start to understand."
Although they've had opportunities to teach elsewhere, both are committed to UNO and IS&T. "I'm not sure I'd really want to be anywhere else," van Vliet says. "I have one of the best jobs in the world here. I have the opportunity to travel. I have great facilities, great colleagues and a great department. There's not really a reason for me to leave."
Adds Pietron: "The most important thing that keeps me here is the ISQA faculty," she says. "Our department is very innovative and concerned about undergraduate and graduate education. The second reason is that I am only eight hours away from my home in North Dakota. My father died in 1993 but my mother is still very robust and active. Family is very important to me, and being able to drive home in a day makes living in Nebraska very ideal."
The commute home takes longer for van Vliet, but he still tries to make it there each summer. "Other than being apart from my family, it's not really that different for me being in Omaha," he says. "I grew up in suburbia. Although the politics are very different – and more people speak Dutch in the Netherlands than in Omaha – my life in my homeland was not really that different from the American experience."
Both professors are single. Van Vliet resides with two schnauzers and a cockapoo. Away from UNO, he participates in fund-raising efforts for the Nebraska Humane Society and loves to read "big, fat novels. Mysteries. Science fiction. History. No romance, westerns or horror, but the rest is fair game."
Pietron is a passionate Cubs fan who loves the College World Series and all Maverick sports. She bicycles, golfs, travels and enjoys camping in the mountains. And she is caretaker of an orange and black tabby cat. "Dartania was my sister's cat until she moved to California. She has taken over my house and now rules it."
Pietron and van Vliet share pride in UNO and IS&T. They believe in what the college has accomplished and are eager to be a part of its future.
"The college has worked hard to create partnerships, with benefactors, with a wide variety of businesses and with the extended Omaha community," van Vliet says. "The projects our students take on have added an additional facet to our work. We are really moving forward together. By combining skills, we are producing something that is good for them and good for us."
Pietron says it all comes down to the students.
"Our graduates are the product of our department, our college and our university. The quality of their education and their impression is invaluable. My greatest accomplishment is to provide students with a knowledge base from my classes that allows them to succeed and make an impact on their organizations. My greatest reward is when former students return and tell me that I made an impact on their lives."
Media Contact
If you have a story idea, news tip or inquiry please contact:
Amanda Rucker, Communication Specialist, College of Information Science & Technology
arucker@unomaha.edu • 402.554.2070