Software Design, Development Focus of One Innovation Place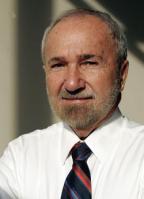 Students eager to design and develop remarkable software have a home at the College of IS&T, and their address is One Innovation Place.
Founded two years ago, One Innovation Place (One IP) recruits and employs the talents of the best and brightest students and puts them to work as consultants for some of the area's largest and most prestigious companies, including Gallup.
Once on board, students at One IP are tasked with researching, designing and prototyping new software products in a variety of challenging fields - from robotics and medicine to Internet search engines and food service. One project, for instance, led to a software program that allows persons who hope to become candidates for a liver transplant to rate themselves according to various decision criteria, thus allowing them to identify areas they need to concentrate on to better their opportunities.
Dr. Gerald R. Wagner (pictured below), a distinguished research fellow within the Peter Kiewit Institute, guides the program. One IP, explains Wagner, is the evolution of two earlier programs that had related goals.
"The concept for One IP began with the VIA Design Group, a student multimedia and design center that emphasized Macromedia Flash MX, a development platform for animations and the ability electronically to put user interaction into motion," Wagner says.
The second program was New Generation Consulting, a student-run information technology consulting firm that recruited great students with great ideas to solve problems and consult in IT aspects ranging from networks to security.
"We determined we did not want to be in generic IT consulting. Also, we did not want to be pigeonholed in either Flash MX or multimedia," Wagner says. "We wanted to take the themes we had been successful with and expand them. One Innovation Place is the result, a place for innovation in new software product research, design and development."
One IP is a people-oriented program that requires a particular skill set, Wagner says. Students are recruited from a variety of study areas, including information systems, computer science, studio arts, geography and graphic design. They must be smart, driven, team players with positive attitudes and pride in their work.
"If people are not overachievers, they don't last around here," Wagner says. "We are looking for students who are somewhat rare, as evidenced by the fact we have wonderful projects waiting for the right students to work on them."
It is not an internship program, Wagner emphasizes. "We are a resource for companies in need of new software products and for students who are destined to become entrepreneurs."
Once a project is selected, students often are paired into two teams. Each team meets with the client then competes independently to produce the best software product. Teams present their product and the client decides which is the best solution, or if a combination of the two is best. Depending on the client, students receive a stipend similar to what an intern would earn.
"It's a wonderful model for students," Wagner says. Although some software becomes intellectual property that could be sold, Wagner adds, "This program is designed not as a moneymaker but as a learning experience for students."
An effort is underway to recruit incoming freshman so as to keep them involved in One IP for as long as possible. "It's fun, intellectual, challenging and original," Wagner says. "What bright student wouldn't want to take advantage of such an opportunity?"
Eric Goeken
"Phenomenal" is how Eric Goeken describes the opportunities available at One IP. "Not only is One IP a cutting-edge idea," Goeken says, "that's also a great way to describe the projects we're working on."
The third-year computer science major from Omaha has been at One IP for a year. His initial project called for the creation of a video business plan player for use in presentations.
"It had the ability to jump to key parts of the demonstration. It was a network application, which allowed several people to watch it and communicate simultaneously, and they could log their comments for anyone who watched the video later."
Goeken says One IP provides something traditional instruction can lack.
"I think it really completes the education process. You can learn methods, formulas and practices in a classroom, but this goes the next step and applies it to real life. We're breaking new ground every day."
Anna Klotz
Anna Klotz's first project at One IP called for the replacement of an existing Microsoft PowerPoint slide show to fit the needs of a unique client - UNO Maverick Head Volleyball Coach Rose Shires.
"She wanted to use it as a sales tool to recruit players, but needed several features to be added to allow for an interactive experience for the athletes," says Klotz, a senior from Council Bluffs, Iowa.
But One IP is about more than software development. "This experience has given me a foot in the door with so many prospective employers," says Klotz, who will graduate in August. "It's given me a greater eye toward the real world, a deeper knowledge that I wouldn't have otherwise."
It's a place for students and faculty to generate and exchange ideas as peers and as friends, she says. "It's a family-type environment full of innovative thinkers. It's not only an awesome work experience, but it gives you a place to be on campus that really feels like a home."
Volkhard Korth
Volkhard Korth, an MBA student from Braunschweig, Germany, served as the first student director of One IP. "What I like the most about One IP is the entrepreneurial aspect. It's something you can't find anywhere else."
Prior to coming to UNO, Korth launched his own student consulting company at a university in Germany. "As a student, they may see what we are doing and just want to give it a try. But once they are involved, the entrepreneurial spirit takes over. It becomes a driving force that leads to a great feeling of accomplishment."
Though he'd had experience with his own company, what he found at IS&T was impressive. "I'm amazed by the facility here, the faculty and what these students can do. I've learned a lot from working with them, and I've had fun along the way."
Media Contact
If you have a story idea, news tip or inquiry please contact:
Amanda Rucker, Communication Specialist, College of Information Science & Technology
arucker@unomaha.edu • 402.554.2070