IS&T: Great Ideas, Great Students, Great College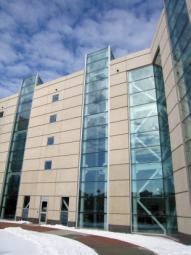 Great ideas and great students need the proper environment in order to take root and grow. Since 1996, the College of Information Science and Technology (IS&T) has proved a fertile ground for both.
With a goal that no student will go unassisted or unchallenged, enrollment in the college has grown from 124 students to more than 1,200.
Situated within the impressive facility that houses the Peter Kiewit Institute (PKI) of Information Science, Technology and Engineering, the college has an award-winning faculty and administrative staff, as well as lab and classroom space rivaling that of any university campus, including Stanford and MIT.
"We have a nationally-recognized faculty to deliver a curriculum that ranks with the best IT schools," says David W. Hinton, dean of the college. "We constantly review and update our courses in our effort to meet-and stay ahead of-today's rapid changes in technology."
Local and national businesses and organizations, often referred by UNO alumni, link with IS&T students for coursework and product development. The end result has led in many cases to offers of employment upon graduation.
Additionally, dramatic advances have been made in external funding through grants and contracts. Faculty members are providing technical assistance through the recently-established PKI Technology Development Corp.
Across the campus and throughout the community, IS&T students continue to impress:
Of the 86 undergraduate degree recipients in May 2004, more than 39 percent graduated with honors;
Trevor Clark, a Management Information Systems major, earned the 2004 Vice Chancellor's Award for Outstanding Leadership;
Five students-Courtney Burger, James Smith, Jijesh Vayelil, Cuong Nguyen and Megan Sigmon-were awarded a bronze President's Volunteer Service Award for their work with the Omaha Coalition for the Homeless, writing training documentation for the OASIS system and conducting administrative training sessions;
Andrew Gacek, computer science major, received the 2004 Vice Chancellor's Award as the Outstanding Student at UNO;
Piyush Shah, information systems major, and faculty member Donna Dufner were recognized by Omaha Mayor Mike Fahey for Shah's work designing an Internet feature for the Mayor's telephone Hotline;
For the recent fall term, 202 students made the dean's honor list, including 48 with perfect 4.00 grades. In addition, 22 freshmen were honored at the UNO Honors Program First Year Member reception.
"The work ethic, determination and enthusiasm of our students challenge us to do better," Hinton says. "Each semester, the number of our graduates continues to grow, as do their accomplishments."
Challenging courses. Dynamic faculty. A valuable resource for business and the community. UNO's College of Information Science and Technology is a leader when others struggle to keep pace.
Media Contact
If you have a story idea, news tip or inquiry please contact:
Amanda Rucker, Communication Specialist, College of Information Science & Technology
arucker@unomaha.edu • 402.554.2070