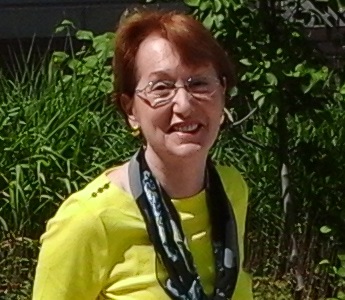 Donna Dufner, Ph.D., MBA, MS, PMP®
Associate Professor
Information Systems & Quantitative Analysis
---
email:
office:
Peter Kiewit Institute 174I
office phone:
Additional Information
---
Office Hours
PKI 174I
Wednesday 4-5 PM, by appointment or before and after class.




Teaching Interests
Dr. Dufner developed and teaches the undergraduate Project Management Course. She also developed and teaches the Graduate Courses in Project Management and Leadership (ISQA 8810) and Project Risk Management (ISQA 8820). She developed the Graduate Certificate in Project Management.
In addition starting in fall 2004 Dr. Dufner implemented a service learning course that takes college students into the Douglas County Department of Corrections (DCDC) to teach computer literacy to inmates. To date over 200 undergraduates and graduate students and 600 inmates have completed the course.
The college students learned a customer service orientation and experienced service to a marginalized segment of the community, while the attending inmates learned essential computer skills as well as increased confidence with technology and people from outside of the jail. Knowledge of technology and maintenance of social networks are key to making a successful reentry into society.
Cited as an exemplary program in UNO's 2014 President's Higher Education Community Service Honor Roll application, this project incorporates a variety of best practices in Service-Learning.
Research and Creative Interests
Project Management, Service-Learning, and Private and Public Sector Information Technology.
Dr. Dufner's research has been published in a variety of scholarly journals including the Journal of Group Decision and Negotiation, the Journal of Organizational Computing, Communications of the Association of Information Systems (CAIS), and Public Productivity and Management Review (PPMR). She served as an Associate Editor for CAIS and as a Senior Referee for the Institute of Electrical and Electronics Engineers, IEEE. She has also served on the editorial board of the Journal of Service Science Research.
Education
Ph D - Management of Computer and Information Technology
Rutgers University (Newark, NJ) 1995
MS - Computer Science
New Jersey Institute of Technology (Newark, NJ) 1995
MBA
University of Chicago Graduate School of Business Administration (Booth) (Chicago, IL) 1977
BA - Sociology
DePaul University (Chicago, IL) 1975
Project Management Professional (PMP®)
Project Management Institute – 2004-present
Awards
Starting in Fall 2004, Dr. Dufner developed and offered a course (The Jail Course) that takes college students into the Douglas County Department of Corrections (DCDC) to teach basic computer literacy to inmates. To date, over 200 undergraduates and 600 inmates have completed the course. In 2015, the Teaching Computer Skills to Inmates course was one of the projects featured by the University of Nebraska at Omaha, which received the Presidential Award for Economic Opportunity, the highest honor in this category via the President's Higher Education Community Service Honor Roll. Read More.
Outstanding Teaching and Instructional Creativity Award, the University of Nebraska's highest honor in teaching 2008
UNO Chancellor's Excellence in Teaching Award in 2006
UNO Alumni Outstanding Teaching Award in 2002
Senior Referee: Special mention in IEEE Computer as a referee whose "dedication, quality of work, and expertise" in reviewing articles submitted for publication exceeds the standards of IEEE (1998-current).
2007 Dr. Dufner was elevated to Senior Member in the IEEE for outstanding contributions to her profession, the first woman in Omaha, NE to receive the honor of being elevated to Senior Member Status in the IEEE. The world's largest and most prestigious professional organization.
Recognized by the Midwest Consortium for Service Learning in Higher Education for efforts to integrate Service-Learning into the education of students at the University of Nebraska at Omaha, 2005.
Participated in the Leadership Omaha Project Team that developed the InTheO.com web site. She coordinated the rollout of the InTheO.com with her Leadership Omaha Team colleagues at a gala event in the PKI atrium attended by over 200 people, KETV, and executives from TheReader Newspaper. InTheO.com provides Omahans and visitors to Omaha with a single place to find cultural and entertainment events going on in Omaha.
Her efforts in South Omaha working with Hispanic entrepreneurs brought wonderful publicity to UNO through the Omaha World Herald feature and through radio interviews about the Service-Learning courses in which she participated. The Service-Learning Course, ISQA 4000-001 Cross-cultural Collaboration was featured as the lead story UNO Reaches out to South Omaha, on the front page on the Omaha World Herald and then again as the lead story in the Midlands Section of the Omaha World Herald, December 2005. The Service-Learning course was also featured in a radio interview that will be broadcast to Spanish and English speaking communities as far away as Colorado.
Please click here for short radio clip of this interview
Dr. Dufner was selected to participate in the 2004-2005 Leadership Omaha Program, which is one of the oldest and most respected community leadership programs in the nation.
Featured on the WebCenter for Learning Networks Effectiveness Research funded by the Sloan Foundation in the video gallery of prominent researchers prepared by Drs. S. R. Hiltz and M. Turoff (invited) 2001.
Distinguished Research Award, Allied Academies, 2001.
She is a certified Project Management Professional (PMP®), the project management profession's most recognized and respected global credential.
Recipient of the highest award given by the University of Illinois, the University Scholar Award, for "Outstanding Teaching and Research". Faculty are nominated for consideration by other faculty and selected for the award by a committee of distinguished external reviewers from Universities such as Yale. The award included a cash component of $18,000 (1998-2000).
Before becoming an educator, Dr. Dufner spent over 15 years in the business world managing software engineering and telecommunications programs and projects with budgets ranging from several hundred thousand up to 20 million dollars. Experienced in both private and public sector project management, she has successfully managed projects for AT&T, Chemical Bank Corp., ARDIS (a joint venture of IBM and Motorola), Bell Atlantic Nynex, the City of Omaha and Douglas County, Nebraska.
Dr. Dufner has received recognition for her work as a project manager e.g., "It is important to emphasize the enormity and relative success of the Juvenile Accountability Incentive Block Grant MIS (JAIBG MIS), development and implementation process. Large-scale MIS development involving multiple agencies and differing data formats has frequently resulted in failure if not outright catastrophe in terms of time, cost, and usefulness of the end product. Our overall evaluation of the JAIBG MIS development effort is that it has been quite successful, both in terms of providing a repository for data collection and sharing, and as a vehicle for promoting inter-agency coordination and cooperation." Source: Martin, J. and Else J. "Juvenile Accountability Incentive Block Grant: Phase III Evaluation Report".
Recipient of the Edna True Award for Meritorious Service as a docent at a national historical landmark in Illinois (the Baha'i House of Worship).
She is listed in Who's Who of American Women and Who's Who of Teachers and Educators.
Courses Taught
Developed and taught:
ISQA3910 - Introduction to Project Management
 
ISQA8810 - Introduction to Project Management
 
ISQA8820 - Project Risk Management
 
ISQA4110 - Service-Learning, Volunteerism, Teaching Computer Literacy to Inmates at the Douglas County Department of Corrections