Secondary education certification for individuals with an undergraduate degree.
The Teacher Academy Project (TAP) is a secondary education certification program designed for individuals who have earned a bachelor's degree (a minimum cumulative GPA of 2.7) and aspire to become a teacher. The year long program (June-May) aims to increase the number of teacher candidates with certification in high demand areas, such as math, science, and world language.
Participants will be enrolled as full-time students and the graduate level work completed through this program may be applied toward completion of a master's degree in secondary education. This accelerated program is offered once a year and allows for completion of the certification requirements in one calendar year.
TAP candidates complete a combination of undergraduate and graduate coursework in a participating Metropolitan Omaha Educational Consortium (MOEC) district.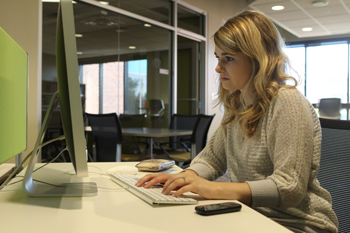 Goals
Provide a quality alternative certification option that leads to secondary teacher certification.
Provide TAP candidates with professional development opportunities while completing certification requirements under the mentorship of the TAP support team.
Provide support for individual TAP candidates with mentoring by district and university staff.
Benefits of TAP
Experience
A practical education experience in a MOEC school working with students, faculty, and administrators in an internship role.
Immersion in the culture of a secondary school with an opportunity to observe the modeling of effective teaching techniques and strategies followed by opportunities for immediate application.
Priority consideration for employment upon successful completion of the program.
Education
Academic course work is completed in an area of secondary endorsement.
Graduate studies focus on the coursework required for teacher certification. Twenty-four hours of study can be applied to a master's degree in secondary education.
Support
Each intern is assigned a trained support team that consists of district and university staff to provide professional and educational leadership in the school environment.
MOEC Members
TAP is supported through the Metropolitan Omaha Educational Consortium (MOEC). Members include the following:
For additional information: