Our Students, Our Future.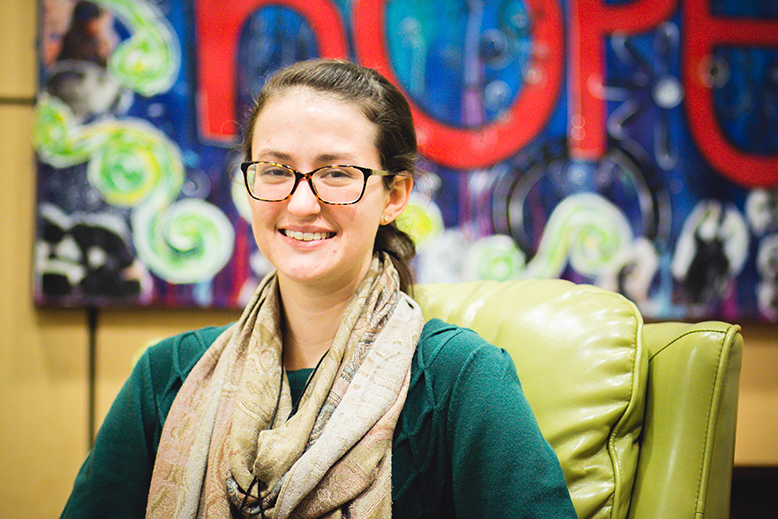 "I am very grateful to have been selected as a recipient of the Northern Natural Gas Scholarship for the 2015-16 school year. This scholarship has helped cover many of my costs of attendance this year at the University of Nebraska at Omaha as I continue my work in the Educator Preparation Program. This scholarship not only provided me with much-needed funds for tuition and other expenses, but it also has provided me with the opportunity to volunteer at the Hope Center for Kids, an after-school center in North Omaha serving students in kindergarten through twelfth grade. Every week at the Hope Center, I spend an hour tutoring middle and high school students and then an hour working with the elementary students. Building relationships with the Hope students and tutoring them has been as invaluable part of my preparation to be a teacher. I deeply appreciate this scholarship as recognition of my potential as a student and future educator and for the volunteer experience it has provided me."
– Marie Severin
---

Robert L. Ackerman Fellowship:                                    
Megan Christensen


Annette Kosowsky Scholarship:
Travis King


Barbara Zimmerman Fisher Scholarship:                     
Chad Elliott
Abigail Jorgensen


Brignoni Education Scholarship/Fellowship:             
Olivia Arroyo-Martinez


Carl Jeanetta Memorial Scholarship:
Madison Partridge


Claudia Galloway Talent Scholarship:
Marlene Djidjoho


Dorothy Peters Teacher Education Scholarship:
Rachel Lallman
Megan Liu


Dr. Hollie Bethel Scholarships:
Kelsey Abbott
Makenzie Anderson
Holly Blazek
Jessica Bohlken
Terri Booth
Rebecca Burkhardt
Felicia Coleman
Olajide Cooper
Justin Cyboron
Alyssa DeClue
Lauren Egger
Lindsi Guetterman
Demi Huff
Brandy Hummel
Nicole Ladehoff
Natalie McGovern
Kelsy Neil
Camilla Redford
Nathan Wesson
Roger Wilcoxen


Dr. Joseph Caniglia Fellowship:
Sarah Roberts


Helen S. Elliott Endowed Scholarship:
Emily Blayney
Rebecca Carignan
Emma Tuttle

Honors – Junior:
Megan Crosson
Nathan Stahl


Honors – Senior:
Anthony Christiansen
Mary Niggemeyer


Honors – Sophomore:
Madalyn Buller
Connor Mazzei


James Winslow Primis Talent Scholarship:                
Logan Cunningham


Jacqueline Lee Jobst Scholarship:
Rachel Ream


Linda Krause Scholarship:
Chad Elliott


Lucille Bowers Talent Scholarship:
Monica Sheridan


Lykke Practice Teaching Scholarship:
Laura Engdahl
Michelle Rife


Assets in Education Scholarship/MacAllister:
Alysa Dail
Rocio Morales
Lena Hosman Neafus:
Alexis Allgood
Nicole Bighia
Sam Bogdan
Laura Capel
Anne Christensen
Meghan Evans
Lisa Gearheart
Emily Heerten
Abby Johnson
Matthew Lukens
Kendall Martin
Sarah Maul
Kayla Rinkol
Jackson Schnitzler
Sydney Schwager
Michael Smith
Brooke Stilmock
Kylee Vaske
Emily Wasson
Hannah West
Jessica Wilson
Melanie Faimon
Megan McAuliffe
Brandy Hummel
Jessica Sorrell
Danika Rugg
Teresa Shaw

Northern Natural Gas Company Scholars in Education:
Sarah Bohrer
Samantha Boyle
Amanda Butler
Sarah Ferguson
Rachel Harold
Sandra Jones
Tylon Miller
Marie Severin


Parker Family UNO COE Financial Aid Fund:
Rachel Kinzer


Patricia Lynn Christie Deaf Education Scholarship:
Cynthia Aspegren
Pamela Duncan


Paul Ackerson Memorial Scholarship:
Alejandra Soto


PM/JHB Scholarship Quasi Endow:
Amy Husk


UNO - Marilyn J. Schoneck:
Brennan Chandler


Mr. and Mrs. Walter T. Johnson Memorial Scholarship:
Joe Willard
Kelsey Wallick


Weitz Company Education Scholarship:
Kristine Peska
Michelle Rife
---

Baseball:
Connor Clark
Cole Johnston
Joshua Scribner


Hockey:
Ian Brady
Austin Ortega
David Pope


Men's Soccer:
Eduardo Gamboa
Jacob Weiler


Women's Basketball:                                
Bobbi Beckwith
Elizabeth Brecht
Marissa Preston


Women's Golf:
Makenna Kroeker    


Softball:
Campbell Ditto
Sydney Hames
Lia Mancuso
Megan May
Elizabeth Noble
Laura Roecker
Tara Trede

Women's Soccer:
Isabella Anders
Ava Doestsch
Natalie Johnson        
Abby Meader
Katlyn Schochenmaier


Women's Swimming/Diving:                              
Breanna Brown
Catherina Freichs
Kaitlin Harthoorn
Baylee Kneip
Miranda Knipfer
Kendra Lair
Jordane Linhart
MacKenzie Ritter
Isabelle Robuck
Paige Skidmore
Cassandra Watts


Women's Tennis:
Mackenzie Hill
Allison Johnson
Rebecca Stafford

Women's Track/Cross Country:                           
Alexis Allgood
Madalyn Buller
Annie Catania
Karo Carcia
Noni Henderson
Lauren Houston
Madeline Nelson
Zarria Nichols
Madison Partridge
Kayla Sabotin
Mackenzie Zach


Women's Volleyball:
Diane Banderas
Elizabeth Brown
Megan Schmale
Amy Taylor
Kayla Torson
---
Read more from the latest issue of Happenings.
Contact Us
If you have a story idea, news tip or inquiry please contact us at: