Sitdown with Haddix STEM Community Chair, Dr. Neal Grandgenett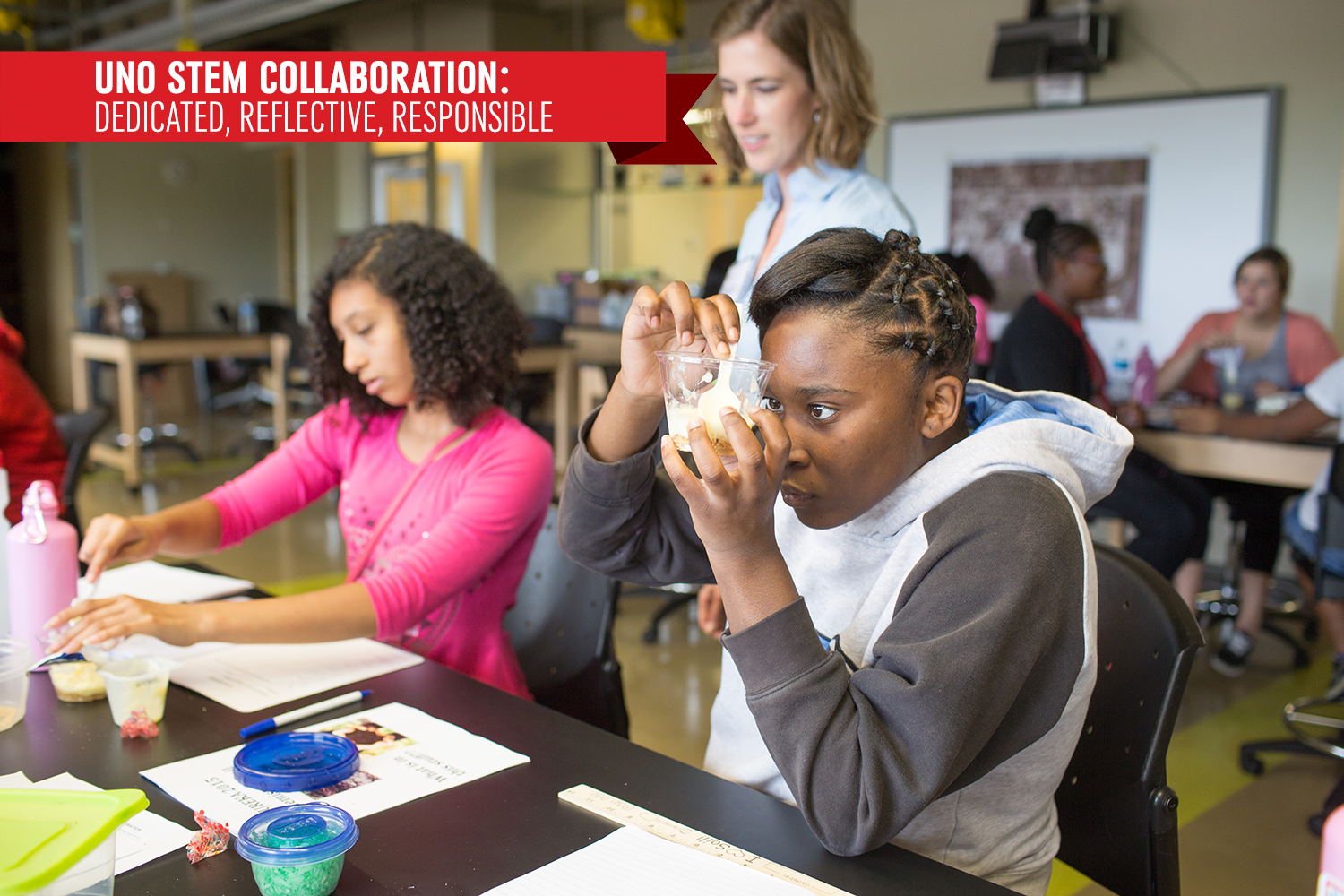 ---
It has been nearly two years since the STEM Strategic Plan was developed, a STEM Leadership Team was established, and the concept of a STEM Community Chair Team (STEM, Mathematics, Science, and Computer Science) was put fully into place. It is certainly a bright time for UNO STEM, with steadily increasing successes in STEM related to the goals of STEM teaching, research, service, and infrastructure. The College of Education is honored to have Dr. Neal Grandgenett, Haddix Community Chair of STEM Education provide campus leadership for this highly successful initiative.

Why and how did you decide to make STEM a priority?
STEM is a big national priority and there is an increasingly desperate need to build educational pathways that will lead to more STEM professionals and teachers in the nation's workplace. UNO and other metropolitan universities have a great chance to become a national model for STEM because of all our close partnerships in the community. STEM takes a truly collaborative effort that excites, engages and prepares students for life-long learning from "cradle to career."
The UNO STEM Priority specifically supports an interdisciplinary model for learning. Why is this so important?
STEM really is all about interdisciplinary learning and the modeling of the real life problem solving, inquiry and design that professionals do in addressing societal needs. It is also much more fun and relevant when it is approached that way for students! Problems today are rarely situated within a single discipline, and being able to comfortably work across interdisciplinary lines is so critical to our society. Numerous national reports suggest that interdisciplinary teamwork is at the very core of national needs in STEM.
Why do you feel it is important for the College of Education to provide key leadership in this initiative?
National reports often suggest that Colleges of Education play an extremely critical role in being a catalyst to interdisciplinary STEM efforts on campus and in collaborating with P12 schools to build educational pathway structures. Recent calls by President Obama, the National Research Council, and other federal agencies are also advocating for 100,000 new P12 STEM teachers. Colleges of Education within the next decade need to be "front and center" in engaging all community partners, and particularly school districts in helping to make this rather daunting national goal happen locally here in Omaha and across Nebraska.  
What are some of the barriers/challenges to continued momentum in STEM?
STEM is a challenging environment for reform for many different reasons. Perhaps the most challenging is the traditional "silos" of STEM, where learning is a bit artificially separated into separate departments or content areas. We are trying to address that on our campus by new courses and initiatives that truly reach across the STEM disciplines. In addition, the campus STEM leadership team is very sensitive to not just building a bigger "STEM silo", but to instead welcome all disciplines to collaborate with us. All disciplines touch and contribute to the STEM Priority in one way or another and we welcome everyone to collaborate with us.
Which STEM accomplishments are particular points of pride for the team?
We are collectively very proud of many different UNO initiatives since the beginning of the STEM campus efforts. For example, many colleges point to an increasingly strong collaboration in the training of high school teachers in the STEM disciplines, where pre-service teachers can easily "double major" in their discipline while working with the College of Education for teacher certification coursework. This is quite rare across the United States. In addition, the interdisciplinary STEM teams have been very successful in shared STEM learning grants, receiving nearly $8 million in collaborative grants from organizations such as NSF, the Department of Labor and private foundations. Finally, interdisciplinary faculty teams have been very successful publishing peer-reviewed articles related to discipline based educational research (DBER) and more than 30 different faculty members have co-authored refereed papers and articles, often crossing colleges. DBER is considered by many national reports to be a real "driver" for educational reform in STEM teaching and learning.     
What does the future hold for STEM and the College of Education?
It is indeed a very exciting time for the College of Education related to making a contribution to the national STEM landscape. Locally, we are increasingly being asked to partner on STEM learning initiatives with faculty members and departments across the campus that rely on our areas of learning expertise, educational experience, and P12 insights for all sorts of STEM initiatives. Some federal grant programs, such as the NSF Noyce and ITEST programs also increasingly require participation by a College of Education researcher or STEM DBER specialist to field a competitive proposal. It is a great time for our campus faculty and staff community to be real leaders and contributors to solving local, regional and national problems in STEM education. It is a great time to be a Mav!
Read more from the latest issue of Happenings.
Contact Us
If you have a story idea, news tip or inquiry please contact us at: