Engineering Education: Reaching New Horizons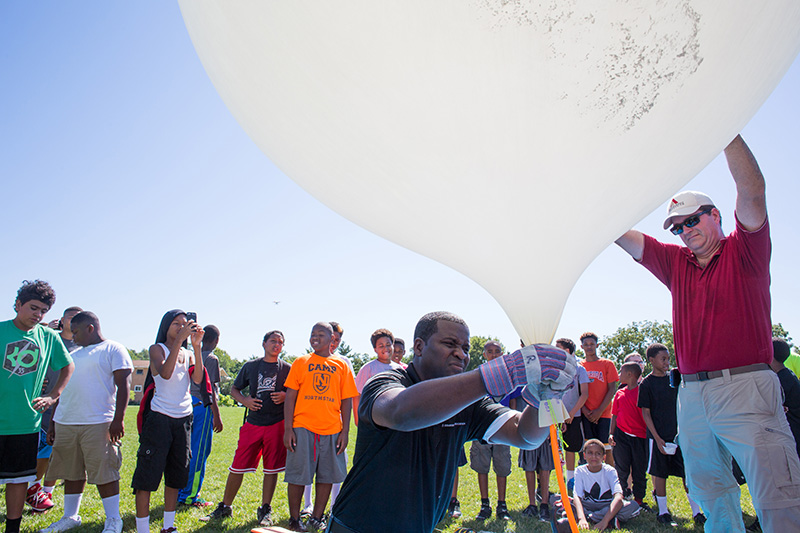 ---
Growing up in inner-city New Orleans, Derrick Nero didn't realize engineering was something he could turn into a career. As the neighborhood fixer, tinkering was an innate skill for him as he enjoyed taking broken items and bringing new life to the scraps. It was in high school when he was introduced to engineering as a science through industrial technology and electronics courses. Initially his plan was to enter the Air Force, but his guidance counselor urged him to explore engineering in college and that degree led to his first job as an engineering contractor in Las Vegas.
Although Nero enjoyed a successful career as a project manager, his volunteer work of serving as a tutor for at-risk youth was his most compelling project. One young man, in particular, was the catalyst that changed the course of his professional life. Derrick's support and commitment helped the young student to improve his math grades to the point of moving his mother to tears. Nero knew he had been called to connect kids to success in STEM.
| | |
| --- | --- |
| | Through UNO, Nero enrolled in the Teacher Academy Project (TAP), an accelerated graduate degree program for those who already hold a bachelor's degree in a high-need area. He was placed at Lewis and Clark Middle School for teaching and was hooked on his new role. While one engineer may have left the profession, he was busy developing many future engineers. Navigating them through the engineering design process, from conception to completion, he made sure they were still meeting rigorous academic standards but through alternative and relevant problems. |
That's the wonder of having an engineering expert like Nero on hand; he understands the details of engineering but determines the best methods of instruction for successful lessons. Since moving to the College of Education, he is advancing our STEM initiatives by integrating and designing engineering science classes for teacher candidates.
Learning from an engineering-specific course is key for teaching STEM teacher candidates because they learn self-sufficient project design strategies as well as assessment approaches more consistent with real world STEM applications. They are able to adapt a set of principles to a multitude of problems and create different paths for a common solution.

When a teacher has experienced this alternative methodology and has real life experiences with industry professionals their students not only succeed but everyone in the classroom is more confident. Why? The teacher has credentials rooted in industry standards and the network to prove it. In his Engineering Education Internship course, teachers are connected with engineering professionals to address best practices, frequent problems and the methods to solve them, from safety to temporary construction structures required on job sites.

His teacher to engineer networking doesn't end there. Nero has brought a new concept to the professions—a seminar that brings both parties together to learn best education practices to prepare the next generation of engineers. Not only do science teachers feel more prepared to cover content they aren't familiar with, but major engineering firms are involved in what topics need to be addressed. From matching instructors with professionals and venturing up an eight story unfinished building to learn an advanced concept or introducing engineering education to urban areas through a high altitude balloon launch, Nero is innovating engineering education for teachers, students, and professionals in the Omaha metro community.
UNPACKING THE IMPACT: ENGINEERING ED COLLABORATIONS
Do Space Collaboration
Engineering Math Prep Academy (MPA)
EUREKA! STEM with Girls, Inc.
Nebraska Robotics Expo
Project HALON
Project HALON at Northstar Foundation
UNO STEM Experience for Middle School
WearTec
Read more about Nero's engineering collaborations and the college's Happenings.
Contact Us
If you have a story idea, news tip or inquiry please contact us at: