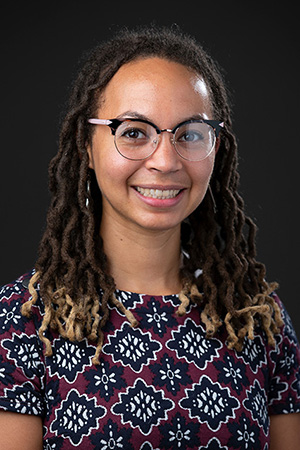 Dr. Charmayne R Adams
Assistant Professor
Counseling
---
email:
office:
RH  101-H
office phone:
personal website:
note:
This profile is pulling in data from Digital Measures. Postings on personal websites or social media do not indicate that the individual is speaking on behalf of UNO.
General Information
---
Biography
Charmayne Adams, PhD is an assistant professor at the University of Nebraska at Omaha and an independently licensed professional counselor. Her clinical background focuses on working with individuals with a history of trauma or in crisis. Her research focuses on teaching about trauma, systemic and emotion-focused clinical interventions, and the application of attachment theory in clinical and academic settings. Both clinically and academically Dr. Adams is focused on social justice counseling and empowering clients to examine barriers and use their strengths to overcome life's challenges.
Teaching Interests
Dr. Adams teaches the crisis and trauma course, and counseling theories. Additionally, she occasionally teaches the multicultural counseling course, counseling practices, and practicum.
Research Interests
Dr. Adams is interested in understanding counselor preparation to work with individuals in crisis or with a history of trauma. Also, her work is focused on understanding counselor education pedagogy including creating significant learning experiences in the classroom. She integrates social justice and multicultural lens into every research study she does.
Awards and Honors
2020 Graduate Student/ Emerging Professional of the Year Award, Service, Professional - 2020
Emerging Leader, Leadership - 2019
Graduate Student of the Year , Scholarship/Research - 2018
Education
Ph D, University of Tennessee, Knoxville, Knoxville, TN, Counselor Education, Behavioral Neuroscience and Trauma Theory , 2019
MA, Wake Forest University , Winston Salem, NC, Counseling, Clinical Mental Health , 2016
Scholarship/Research/Creative Activity
---
Selected Publications
Adams, Charmayne, Thacker, Nancy. 2020. Systemic Perspective of Conduct Disorder in Adolescents, Journal of Asia Pacific Counseling , 10, 2, 23-36.
Adams, Charmayne, Gibbons, Melinda. 2019. Counseling Adolescents Diagnosed with Conduct Disorder: Application of Emotion-Focused Therapy For Individuals , Journal of Mental Health Counseling, 41, 283-296.
Blueford , Jillian, Adams, Charmayne . 2019. Using an Attachment Lens to Conceptualize Grief: Practical Implications for Practitioners , Journal of Human Services , 39, 129-142.
Adams, Charmayne, Blueford , Jillian. 2020. At Promise Children and Adolescents, Routledge.
Adams, Charmayne, Rogerson, Eva. 2019. Growth after Trauma: An Eight-Week Psychoeducation and Process Group, Cognella Academic Press.
Service
---
Department, College, and University
Chi Sigma Iota , Other, 08/01/2019 - 08/31/2019
Clinical Mental Health Comprehensive Exam Coordinator , Program Organizer / Coordinator, 08/01/2020 - 08/31/2020
Professional
American Mental Health Counseling Association Advancement For Clinical Practice Committee, Committee Member, Review the American Mental Health Counseling Association Standards , 01/01/2019 - 12/31/2019
Association for Assessment and Research in Counseling , Committee Member, Search on the research committee , 09/01/2019 - 09/30/2019
Teaching and Supervision in Counseling Journal , Reviewer, Journal Article, Review 1-2 articles every 2-3 months, my primary responsibility is reviewing qualitative articles , 01/01/2018 - 12/31/2018
Media Contributions
Radio, NET/PBS: Well Beings , NET, Nebraska's PBS & NPR Stations, is hosting its third virtual "WELL BEINGS" online event, "Mental Health in Communities of Color," at 4 p.m. CT, Thursday, Jan. 28. According to the National Alliance for the Mentally Ill, another shared experience in communities of color can be facing racism, discrimination or inequality that can significantly affect a person's mental health. Being treated or perceived as "less than" because of skin color can be stressful and even traumatizing, according to NAMI. Additionally, members of communities of color may have difficulty accessing care and treatment or experience socioeconomic disparities that contribute to worse mental health outcomes. "Mental Health Communities of Color" includes a panel of experts who are on the frontlines of providing care and understanding for youth who struggle with mental health issues that may lead to suicide. In Nebraska, the youth suicide rate is higher than the national average, and a leading cause of death for 10-24-year-olds, according to the Centers for Disease Control and Prevention. he virtual event will feature personal stories from young adults, as well as practical skills and information that students, parents, teachers and others who care for young people can use to recognize the signs and symptoms of depression, anxiety and suicidal thoughts. NET announcer/reporter William Padmore will moderate the virtual discussion. https://youtu.be/R6CvxgqwgKE, 01/28/2021
TV, Access to Experts , Access the Experts is an innovative partnership between the University of Nebraska at Omaha (UNO) and News Channel Nebraska (NCN), where viewers submit their questions to be answered by UNO faculty members.https://www.unomaha.edu/news/access-the-experts-with-uno/index.php , 09/17/2020
TV, Fox42, A short news interview and contribution to an article titled "How to Recognize When You are Stressed Out". The video can be found at this link: https://fox42kptm.com/news/local/how-to-recognize-if-youre-stressed-out , 04/17/2020
TV, KMTVNews 3, A short news interview and contribution to an article titled" Using technology like Zoom and Facebook to stay connected during COVID-19 Ways you can stay socially connected in quarantine. The video can be found at this link:https://www.3newsnow.com/rebound/coronavirus-stress/using-technology-like-zoom-and-facebook-to-stay-connected-during-covid-19, 04/24/2020