ISSUED: (Thursday, January 14, 2021 21:55 PM)
SEVERE WEATHER ALERT
All classes, campus operations, and campus events will be suspended for Friday, Jan. 15, unless otherwise noted. Normal operations will resume on Saturday, Jan. 16.
More Information
CLOSE

X
Biomechanics Pitching Lab
Biomechanics Pitching Lab

Using the leading technology in the field, this multi-step assessment will help you further understand your pitching delivery. After your evaluation, our team of movement experts will provide a detailed clinical and biomechanical analysis that can be used to develop a customized training program targeted at addressing the specific needs of each athlete.
Interested in scheduling an appointment? Email us today at bmchpitchinglab@unomaha.edu.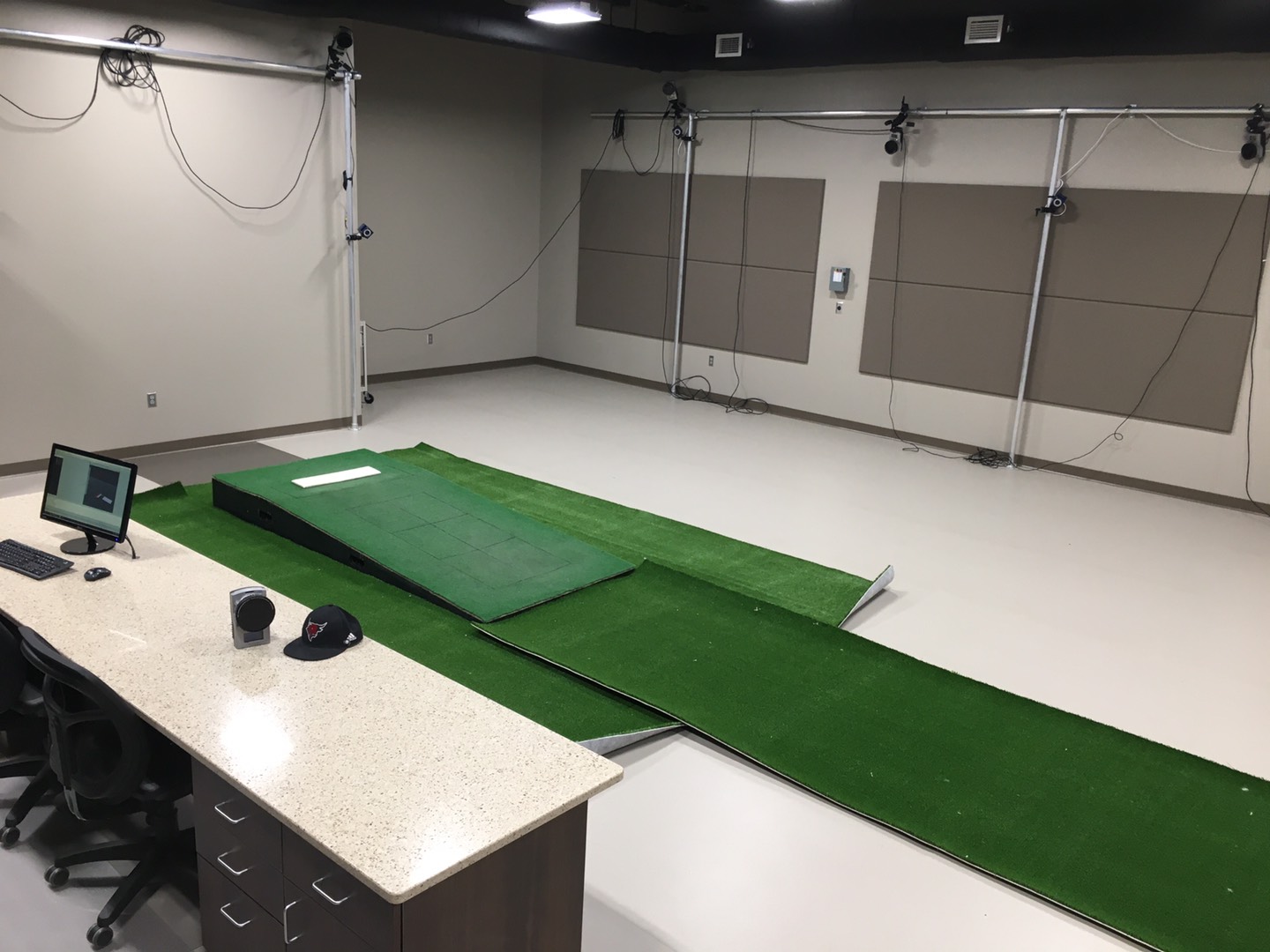 Biomechanical Analysis
Dr. Knarr and his team will record each pitcher during a bullpen session using state-of-the-art motion capture cameras surrounding the force-plate instrumented pitching mound. This data will provide critical information as to how the athlete moves during the throwing motion. This assessment will spotlight movement inefficiencies that the athlete should address in order to maximize pitching delivery efficiency all while helping to prevent injury. Our team of biomechanists alongside our certified athletic trainer will analyze all data collected to develop a training program specific to the athlete. This program will then be taken by the athlete and given to their coaching staff to help put their program into motion. Our goal is to help every player move as efficiently as possible, keeping them healthy and performing at their best.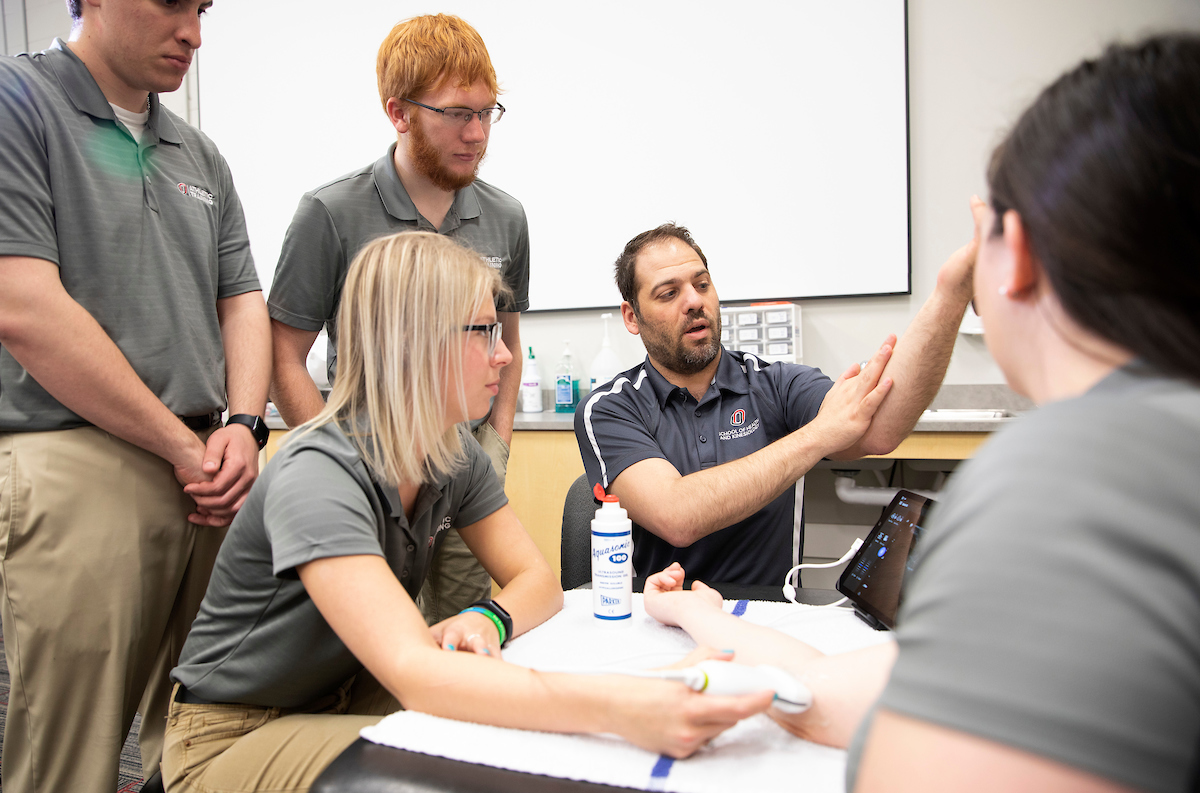 Clinical Analysis
Dr. Rosen and his team of athletic trainers will bring each athlete through a series of clinical tests assessing their movement. Shoulder range of motion will be measured to examine the athlete's total external/internal range of motion in their throwing and non-throwing arms. Shoulder strength will be measured through a state-of-the-art clinical device designed to measure the precise force an athlete exerts against it as they perform a series of shoulder rotations. Scapular Dyskinesis will examine how the scapula sits and rotates as our team of ATs take each athlete through a series of short exercises. Lastly, UCL ultrasound will examine the spacing between the elbow bones as it has been found to be an indicator of stress on the UCL.
The Pitching Lab
The Omaha Pitching Lab is located on the lower level of the Biomechanics Research Building of the University of Nebraska Omaha campus. It features fourteen high-speed motion capture cameras and slow-motion video cameras and three research-grade force plates instrumented within the pitching mound. Together, this gold-standard technology creates an in-depth report designed to keep our athletes healthy and performing at their peak. What does our biomechanics report look like? Click here for a sample.
Our Team
Dr. Brian Knarr
Biomechanics Pitching Lab Director
Dr. Brian Knarr is an assistant Professor in the Department of Biomechanics at UNO. Dr. Knarr has spent the past 14 years studying and researching human movement and injury prevention. He completed his M.S. in Mechanical engineering and Ph.D. in Biomechanics and Movement Science from the University of Delaware, providing expertise in both the technology and implementation of motion capture. Dr. Knarr's research is nationally and internally recognized and has been funded through the National Institutes of Health.

Tyler Hamer
Biomechanics Pitching Lab Researcher
Tyler Hamer has a M.S. in Biomechanics from the University of Nebraska – Omaha. As a former NCAA D1 pitcher for the University of Nebraska -  Omaha and the University of Illinois, pitching has been an integral part of his life. Throughout his athletic career, he has been a part of a Big Ten Championship winning team as well as a Summit League Championship. After spending two decades studying and perfecting the art of pitching as an athlete, he is now combining his distinguished athletic background with his experience in biomechanics to provide a unique foundation for sport performance and injury prevention.

Dr. Adam B. Rosen
Biomechanics Pitching Lab Co-Director
Dr. Adam Rosen is an associate professor and director of the athletic training program in the School of Health and Kinesiology at UNO. As a clinician, biomechanist, and researcher, he aims to identify risk factors for a variety of musculoskeletal injuries, including throwing injuries. He completed his PhD in Kinesiology with concentrations in Athletic Training and Biomechanics from the University of Georgia. Dr. Rosen has spent 7 years working with D1 baseball teams while at the University of Delaware and as an assistant athletic trainer at the University of Pennsylvania. There, one of his major roles was to preserve arm health for the pitching staff through injury risk factor identification and rehabilitation interventions. He has published over 30 research manuscripts and has given presentations at numerous local, national, and international conferences.
Book an Appointment
Amateur Pitching Evaluation

Minor League Pitching Evaluation
Professional League Pitching Evaluation

$300

$600
$900

Evaluations are scheduled for 2 hours
Group or Team Evaluations are available by special request. Groups or teams looking to get assessments will receive special large-group discounted pricing.
Payments may be cash, check (Made out to Univerisity of Nebraska Omaha), or credit card on day of Evaluation
Email us at bmchpitchinglab@unomaha.edu to set up an appointment.