Honoring Omaha's Fallen Police Officers
Sculpture Honors Fallen Officers. Remembering the past. Inspiration for the future.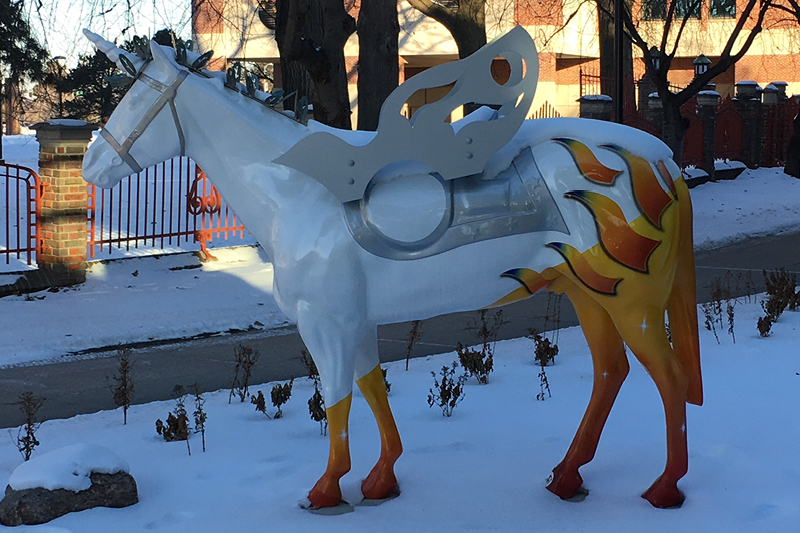 Students and visitors to the Weber Fine Arts building will notice a new addition to campus this semester. A horse sculpture recently installed outside the southwest entrance.
The horse was created as part of the Horses of Honor Omaha project, a public art exhibition to honor fallen officers of the Omaha Police Department. Eight life-sized sculptures of horses, along with one K-9 were created for this project; each being designed by an Omaha artist to honor a fallen officer. The exhibit took place in Turner Park from May 2016 to March 2017, since then, the statues were purchased and put on display throughout the Omaha area
The sculpture displayed on the UNO campus was created by artist Trudy Swanson to represent the memories of all of Omaha's fallen police officers. Swanson wanted the statue to be a message of peace for everyone in the Omaha community, as a well as honoring both those lost and those still serving today.
"We're honored to be the permanent home of this piece. We hope that students and guests will remember the service that all officers have done and continue to do for our community when they pass it.'' 
- Mike Hilt, Interim Dean of the College of Communication, Fine Arts and Media
UNO's College of Communication, Fine Arts and Media was one of the many supporters of the Horses of Honor project. Originally sponsoring a horse created by UNO art professor Jave Yoshimoto in memory of the late officer Greg Hamill. UNO later became the benefactor of the "All Fallen Police Officers" horse. Officer Greg Hamill's horse is being displayed outside the Omaha Police Central Headquarters.
Proceeds from the purchased sculptures will benefit the Omaha Police Foundation, an organization working to ensure Omaha police officers have the proper training and equipment needed to serve the city of Omaha and protect the lives of its people.
Our Campus. Otherwise Known as Omaha.
The University of Nebraska does not discriminate based on race, color, ethnicity, national origin, sex, pregnancy, sexual orientation, gender identity, religion, disability, age, genetic information, veteran status, marital status, and/or political affiliation in its programs, activities, or employment. Learn more about Equity, Access and Diversity.
scroll to top of page