Communication Faculty Advance Native Health Research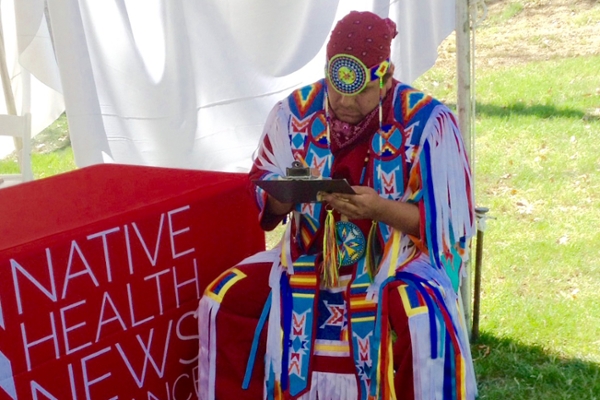 A breakthrough to improve the health of a population that's often neglected took place at the Hart of the West powwow in Los Angeles. Despite unseasonably hot weather, hundreds of powwow attendees volunteered their time to participate in research that will advance the journalistic reporting of health news for Native Americans.
Dr. Sherice Gearhart and Dr. Teresa Trumbly Lamsam of the UNO School of Communication attended the powwow to collect data at a booth jointly sponsored by the Native Health News Alliance and the American Indian Cancer Foundation. During the two-day event, up to 5,000 people attended per day and were asked to read a health news story and complete a questionnaire to assess a variety of outcomes.
Tribal health systems are underfunded, access is limited and a distrust of medical systems persists, which has resulted in low awareness of health risks. Although barriers exist, Gearhart and Lamsam are working to identify the best way to get population-specific health information to Native Americans. In the end, their goal is to provide actionable information, allowing people to make a commitment toward a healthier lifestyle.
Working in unprecedented territory, Gearhart said they had no idea what to expect. Communicating the purpose and intentions was an important factor in participation because of Native communities' mistrust of government and academic research.
 "A culture of mistrust was apparent in some," Gearhart said, explaining the reluctance of some individuals at first. "Once the authentic, real goal was understood, the willingness to participate increased."
Because of the academic misuse of Native populations in research, Lamsam said the mistrust extends to academia. She said tribes are actively protective against it and have gotten the message out to their communities.
In between dances, the powwow emcee regularly announced the booth and raffled gifts to encourage participation. "They were very happy to see that someone was concerned about their population and the health epidemics they face and wanted to do something about it," Gearhart said.
By creating allies and communicating the project's goal, Gearhart and Lamsam left the powwow with enough data to analyze four outcomes in the next step of their research:
How the respondents felt about stories covering health issues that disproportionality affect Native Americans.
How willing respondents would be to read similar stories.
How much knowledge respondents retained from stories.
What solutions respondents supported to improve Native health issues.
Fully funded by a grant from the Waterhouse Family Institute at Villanova University, the trip was to collect data for Gearhart and Lamsam's research project "Finding the impact zone: Testing health news for the Native American audience."
Contact Us
If you have a story idea or inquiry please contact:
Randy Mattley, Communications Specialist, College of Communication, Fine Arts and Media
rgmattley@unomaha.edu • 402.554.3216