Journalism Student Cynthia Todd Interns in Nashville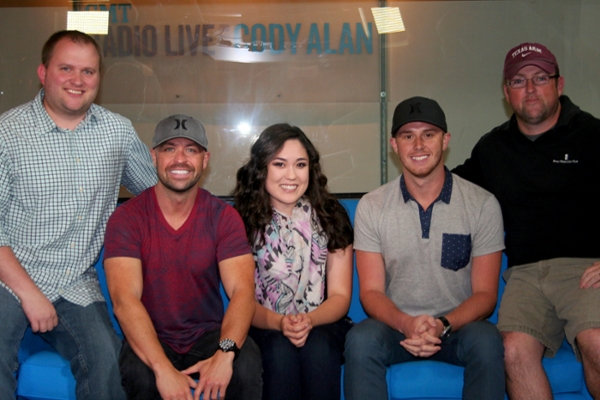 It happened on spring break, on her 21st birthday, during a road trip to California.
University of Nebraska at Omaha journalism major Cynthia Todd was doing the Hollywood sign hike in April with her friends when she got a "super casual" email from Anne Oakley, vice president of radio at CMT in Nashville, Tennessee. 
Oakley said, "How about tomorrow?" The next day Todd had a telephone interview for a paid internship.
"I did my interview from a Disneyland lollipop shop with Mickey Mouse ears everywhere and piano music playing in the background," Todd says.
The interview lasted 15 minutes. She says it didn't sink in that four representatives of CMT were actually interviewing her.  "I was out of my element. Every aspect was random. I will always remember that interview," Todd says.
The next day she got an offer to be the CMT Radio Network intern for on-air personality Cody Alan.
She was told by one of the interviewers that hundreds applied for the internship, but only five were selected for interviews for the position Todd was offered.
At the time, Todd was working at iHeartMedia in Omaha and was allowed to take three months off for the internship this summer, which required moving to Nashville. 
She learned that she would be able to room with another intern already in Nashville, so Todd was Nashville bound.
CMT hires 18 interns per summer. A typical day for Todd went something like this: In the mornings she dug for entertainment stories and wrote for the Internet. She also completed Facebook posts for Alan. In the afternoon, she edited show promos that went out to 200 iHeartMedia Inc. stations. 
Then, there was the occasional video interview. "For every interview Alan did, I would time count interviews and take notes," Todd says.  
Mostly she helped the associate producer find stories and write the radio show prep.
"Once they got familiar with my writing, they let me write top stories," she says. These were posted on the CMTCody website.
One day she wrote five stories about country singer Luke Bryan.
Todd ghost wrote a story that singer Tim McGraw liked and Tweeted about. Todd says he wrote, "Thanks, Cody."
"McGraw doesn't know I wrote the story, but I do," Todd says.
It was a thrill to go from print writing to writing for radio, she says. Meeting famous people wasn't bad either. One day Alan interviewed Kasey Musgraves. "Internally, I was freaking out, and I couldn't show it," Todd says. 
A "no fan policy" means you have to go with the "very chill" environment to not show your emotions and just take it all in, she says.
Todd says her biggest takeaway from the CMT internship was "knowing that I can do it." She had to be willing to apply for an internship at a big company and move to the big city.
She says everything she learned from the professionals at CMT helps her in her job. She is now back at iHeartMedia in Omaha.
"It is impossible if you think it is," Todd says. "If you are passionate and determined enough, it ends up working out."
Todd says the classes in the School of Communication taught her how to write for online, public relations and to maintain professionalism. 
"This is a major that you have to be passionate about and determined to do it," she says. "As corny as that sounds, I've never had a professor here tell me I couldn't do it."
Todd advises, for communication majors, "if you are just in it for perks to meet the artist, it's not the right major for you. You need to enjoy being a story teller and put in a lot of hard work. If you don't have that drive, you'll get filtered out from other students who do."
Todd will graduate in December – a semester early.
At UNO she is involved in her profession of choice working for MavRadio, writing stories and doing "fluffy" album reviews rather than hard-news stories.
"We want to have bands come into the MavRadio studio instead of over-the-phone interviews," Todd says.
Bringing in local indie bands like Icky Blossoms is the goal. MavRadio actually gets better a response from national artists, like Jacob Whitesides.
She says she is surprised that more local bands don't want to do interviews. She contacts national artists at a rate of three or four a week to complete two interviews a month.
Todd says her first love is music because she likes to promote.
With graduation approaching, Todd is busy applying for jobs in large markets with major opportunities. She wants to land a job that she is completely happy with and then put 100 percent into it. Her dream, she says, is to land a job as an entertainment reporter.
That is what she says is driving her to do what she wants to do: "Straight up PR and writing stories."
Contact Us
If you have a story idea or inquiry please contact:
Randy Mattley, Communications Specialist, College of Communication, Fine Arts and Media
rgmattley@unomaha.edu • 402.554.3216
Our Campus. Otherwise Known as Omaha.
The University of Nebraska does not discriminate based on race, color, ethnicity, national origin, sex, pregnancy, sexual orientation, gender identity, religion, disability, age, genetic information, veteran status, marital status, and/or political affiliation in its programs, activities, or employment. Learn more about Equity, Access and Diversity.
scroll to top of page