Communication Alum Leads Live Video Production at Baxter Arena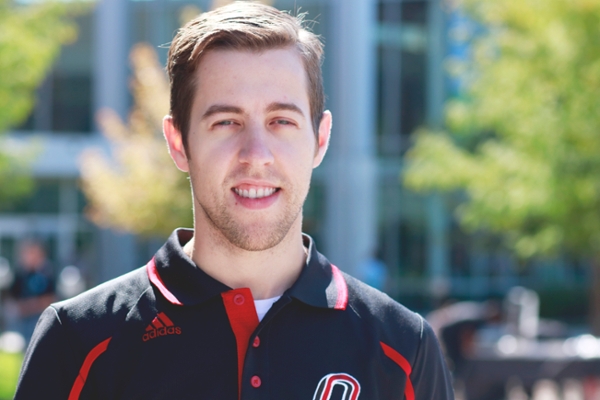 Omaha – A recent graduate from UNO's School of Communication may have found the job of his life – at 27 years old.
Phil Manley is the live event video director at UNO's new Baxter Arena.
"My specialty is live TV production," the 2013 graduate said, adding that live TV production aspects of instant replay and switching camera shots on the fly aren't just for network television anymore.
Event venues, such as Baxter Arena, also have similar equipment to give people who attend events, like UNO hockey games, a much better experience than what was possible before, Manley said.
That love for live video production started at UNO, he said, but he didn't start out as a broadcasting major. Beginning as a part-time computer science major in 2007 working his way through school, he didn't change his major to broadcasting with a new media concentration until he started working at UNO-TV.
"I started working there and realized that I liked it," he said. "That was my turning point."
That change felt more like what he wanted as a career. "I think what I loved about computer science was all of those components," he said. "That's what drove me here."
Manley was hired for the Baxter Arena position on Aug. 10. He currently is housed in the Sapp Fieldhouse because the new arena is still under construction and equipment is still being installed.
"The structure is there, but there's still some work to be done internally," the Ralston native said, adding that even though some smaller events are planned in the arena in the middle of October, the major focus is on the first game of the 2015-2016 hockey season.
"It's kind of appropriate that Air Force will be the first opponent in Baxter Arena," Manley said. "They were the first opponent for our hockey team. It's fitting that they're the same team to start this legacy."
It's exciting for an alumnus to be in such a pivotal position in UNO's new Baxter Arena, said Hugh Reilly, director of the School of Communication.
"We love when an alum gets this kind of opportunity," Reilly said. "We hope that the efforts of our faculty who trained him for this career had an impact. We're proud of him. We're proud when any of our students get an opportunity like this."
However, this isn't the first big job Manley has faced. In February 2014, less than one year after graduating from UNO's College of Communication, Fine Arts and Media, which includes the School of Communication, he was directing some of the events seen during the Winter Olympics in Sochi, Russia.
Before working at UNO's Baxter Arena, Manley worked as a video production freelancer and was also employed with the Metropolitan Entertainment and Convention Authority, a nonprofit organization that operates CenturyLink Center Omaha and TD Ameritrade Park Omaha. At TD Ameritrade Park in recent summers, Manley worked in video production during the College World Series.
Now, Manley said he's excited to see Baxter Arena open in early October with the dedication on Oct. 7.
"This is part of what UNO is trying to do," he said. "A university is also a business and has a brand. This is great for UNO. It also helps athletics. It's a place for UNO athletics to call home. This gives UNO a big tool that it didn't have before."
In addition to UNO hockey, the men's and women's basketball teams will play in Baxter Arena, according to information released from the university's athletics department. While the volleyball season has started with Sapp Fieldhouse as its home court, matches against Western Illinois on Nov. 1 and Oral Roberts on Nov. 10 are scheduled at Baxter Arena.
Contact Us
If you have a story idea or inquiry please contact:
Randy Mattley, Communications Specialist, College of Communication, Fine Arts and Media
rgmattley@unomaha.edu • 402.554.3216