UNO NAEA Works With Students to Produce Dundee Subway Mural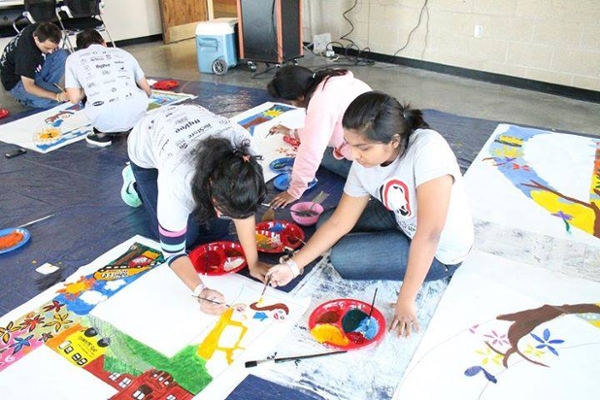 Omaha – Over fall break, the UNO National Art Education Association Student Chapter worked with students from Dundee School to create a mural for the Dundee Street Subway. The mural is not yet installed, but the artwork can be viewed at the subway's re-dedication at 10 a.m. on Thursday, Oct. 29.
A ceremonial ribbon cutting will take place at the north entrance of the pedestrian tunnel at 51st & Dodge Streets. State Senators Sara Howard and Burke Harr will be on hand to do the ribbon cutting.
According to a release from the The Dundee-Memorial Park Association, the Dodge Street Subway was built in 1934 as part of a New Deal era construction project to widen Dodge Street. The tunnel was built for the purpose of allowing Dundee School students to safely cross Dodge Street. The tunnel is the last of its kind in Omaha.
In recent years, the pedestrian tunnel had been the target of graffiti and was in need of renovation. The Dundee-Memorial Park Association undertook a fundraising campaign to support concrete repairs, new LED lighting, new entrance signs and a mural inside the tunnel celebrating Dundee.
Contact Us
If you have a story idea or inquiry please contact:
Randy Mattley, Communications Specialist, College of Communication, Fine Arts and Media
rgmattley@unomaha.edu • 402.554.3216