MavForensics Starts Season Strong; Zaleski Takes Top Speaker Award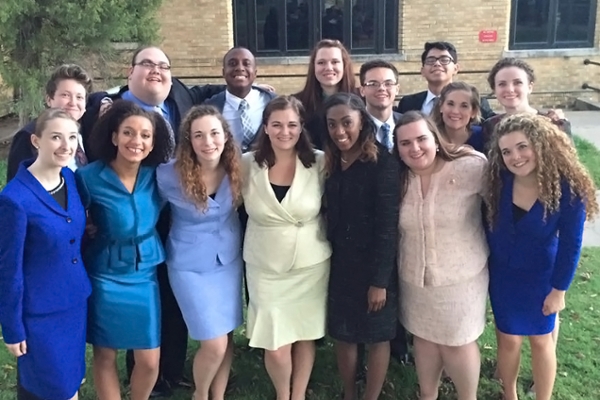 Omaha – The MavForensics team has once again hit the ground running with a strong showing at the "Debates on a Plain" tournament, held Sept. 26 - 27 in Hutchinson, Kansas. Led by senior Catie Zaleski, who managed to win four individual events on Saturday alone (along with taking home the award for top overall speaker), the young team saw 13 of its 15 competitors make finals over the weekend. As the squad gears up for an exhausting but exciting marathon of competition, it's safe to say things got off on the right foot.
"This year's team is easily the youngest we've ever had," said MavForensics Assistant Coach Ryan Syrek. "More than half the team are freshmen. That means when we set foot on campus this weekend, more than half the squad had never competed in college forensics before! So color us quite proud that we were able to take both days of the season's first tournament against stiff competition."
The region is stacked with some of the best teams in the country, including 3 of the top 10 squads.
"Combine that with the fact that we're smaller than most squads, and these results make us that much more proud," Syrek said.
The team will next compete in the "Buffs and Cats Swing" hosted by West Texas A&M and Kansas State University on the KSU campus in Manhattan, Kansas Oct. 3 – 4.
Full results of the Debates on a Plain tournament are as follows:
Day One (September 26)
After Dinner Speaking
Bridget Hames (Senior) - 1st
Emilee Sloan (Freshman) - 5th
Duo Interpretation
Catie Zaleski (Senior)/T'eyrr Bynum (Sophomore) - 1st 
Abbie Herbert (Junior)/Dominic Hernandez (Sophomore) - 2nd
Abby Hoffman (Freshman)/Ameres Groves (Freshman) - 3rd
Julia Quigley (Junior)/Whitney Hansen (Freshman) - 4th
Dramatic Interpretation
Julia Quigley - 1st
Ameres Groves - 3rd
Poetry Interpretation
Catie Zaleski - 1st
Whitney Hansen - 2nd
Dominic Hernandez - 3rd
T'eyrr Bynum - 4th
Prose Interpretation
Catie Zaleski - 1st
Dominic Hernandez - 2nd
Abby Hoffman - 3rd
Julia Quigley - 6th
Whitney Hansen (Semis)
Ameres Groves (Semis)
Program of Oral Interpretation
Catie Zaleski - 1st
Abby Hoffman - 3rd
Whitney Hansen - 4th
Ameres Groves - 6th
Impromptu Speaking
Cesar Ariel Magaña-Linares (Freshman) - 4th
Individual Sweepstakes
Catie Zaleski - 1st
Dominic Hernandez - 4th
Abby Hoffman - 5th
Team Sweepstakes
UNO – 1st
Day Two (September 27)
Prose Interpretation
Abby Hoffman - 1st
Catie Zaleski - 2nd
Dominic Hernandez - 4th
Emilee Sloan - Semis
Abbie Herbert - Semis
Program of Oral Interpretation
Abbie Herbert - 1st
T'eyrr Bynum - 3rd
Ameres Groves - 4th
Poetry Interpretation
Catie Zaleski - 1st
Whitney Hansen - 2nd
Dominic Hernandez - 4th
Ameres Groves - 6th
Duo Interpretation
Dominic Hernandez/Abbie Herbert - 1st
Catie Zaleski/T'eyrr Bynum - 3rd
After Dinner Speaking
Bridget Hames - 2nd
Emilee Sloan - 5th
Dramatic Interpretation
Catie Zaleski - 2nd
Abbie Herbert - 4th
Abby Hoffman - 5th
Julia Quigley - 6th
Persuasive Speaking
Dylan Morris (Sophomore) - 3rd
Impromptu Speaking
Dylan Morris - 3rd
Extemporaneous Speaking
Dylan Morris - 5th
Informative Speaking
Abbie Perry (Freshman) - 6th
Individual Sweepstakes Day 2
Catie Zaleski - 2nd
Abbie Herbert - 4th
Team Sweepstakes Day 2
UNO - 1st
Overall Team Sweepstakes
UNO - 1st
Contact Us
If you have a story idea or inquiry please contact:
Randy Mattley, Communications Specialist, College of Communication, Fine Arts and Media
rgmattley@unomaha.edu • 402.554.3216