Service Learning in the Community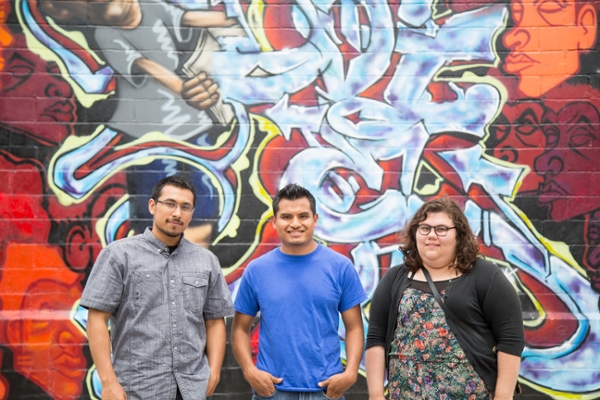 How do you get a child inspired by the arts? When populations are underrepresented in the artistic community, do you get more involved?
The solution to these dilemmas is a vision.
In the University of Nebraska Omaha (UNO) College of Communication, Fine Arts and Media (CFAM), students and faculty are working on making that vision a reality. 
Adrian Duran, associate professor of art history, was contemplating ways to incorporate service learning into his course. He met with Brigitte McQueen Shew, founder and director of The Union for Contemporary Art in North Omaha, and she presented him with a challenge: create a coloring book that celebrates African-American artists.
A few weeks later, the coloring book titled "Creative Color: Celebrating African American artists from 1900 to today" was complete. The book is filled with drawings of 31 African-American leaders in visual arts, poetry, music, dance, and civil rights. UNO art and art history students created all of the images featured in the book, and performed the majority of the research presented about each artist. The coloring book will be used in the children's education programming at The Union.
"The density of goodness in there is pretty stratospheric," Duran said of The Union. Along with providing direct support to local artists, The Union also has a gallery, residency programs, and a community garden.
The book will serve as a tool to explain the complexities of different social issues to children. Each of the artists featured faced roadblock before reaching success, and not necessarily just in regard to race. There are stories about overcoming the struggles of gender inequality, sexual identity, and growing up in neighborhoods that are plagued with drugs and violence.
"For these kids at 24th and Burdette, to be able to take a moment and think about these kind of things, to me it is the greatest thing ever," said Duran.
The Union is doing its part to grow the arts community, while a trio of UNO students is in the process of starting a movement of their own.
Hugo Zamorano, Gerardo Vazquez, and Alma Becerrill Salas are working in collaboration with the Office of Latino/Latin American Studies (OLLAS) to build a community of Latino artists in South Omaha.
Duran is on the committee to oversee this project, but he says the students are the ones with the vision. "The students are the ones doing all of the heavy lifting," he said. "They came to us and said, 'Here is the plan,' and then they laid it out."
A gallery owner has already expressed interest in working with Zamorano, Vazquez, and Becerrill Salas. The gallery would showcase the work of local Latino artists by hosting art exhibitions, poetry readings, and other events. They have also discussed the possibility of painting a community mural.
Zamorano hopes to provide an outlet for at-risk youths who resort to doing graffiti in their spare time. "There is a lot of untapped potential that never really translates into talent after high school," he said.
Becerrill Salas says that the most important thing is providing support to those that need it. "A lot of what we have talked about is just supporting each other," she said. "It is a lot easier to be a part of the arts community when you have support."
Duran, a New Jersey native, came to UNO after a stop in Memphis. He believes that The Union and the movement out of OLLAS speak to the talent that this city has to offer. "Omaha is better than people know, and is better than people say," he said.
"UNO can be the primary engine of arts in the city. We just need to keep leaning on the gas."
Contact Us
If you have a story idea or inquiry please contact:
Randy Mattley, Communications Specialist, College of Communication, Fine Arts and Media
rgmattley@unomaha.edu • 402.554.3216