CFAM Graduate Student Presents Research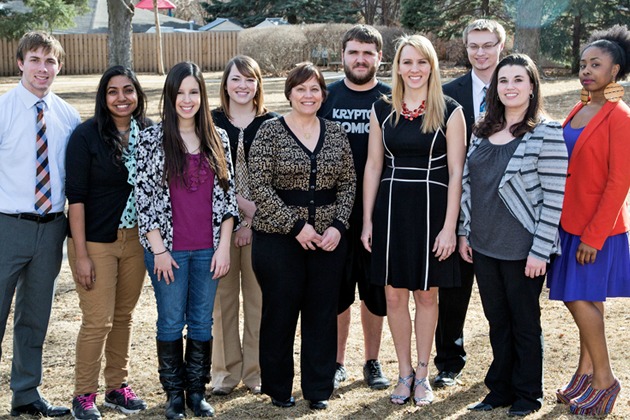 It's one thing to discuss academic concepts in the classroom. It's a whole other experience to take that knowledge, form a hypothesis, research it — and present it in front of your peers, faculty and complete strangers.
 
For some UNO students, that experience is part of a course assignment. For others, it's a required part of earning a degree.
 
MaryLee Moulton understands the benefit of preparing her research to share in a formal presentation. The School of Communication graduate student is among hundreds who have taken part in UNO's Student Research and Creative Activity Fair.
 
The event features posters, oral presentations and demonstrations by UNO undergraduate, graduate and doctoral students, and post-doctoral fellows. Judges represent industry, nonprofits and the University of Nebraska system. In 2014, the sixth year for the fair, a record 203 students participated.
 
Moulton prepared a paper she originally wrote for her Rhetorical Theory and Criticism class. Over about six months, she worked with her professor and fellow students to finesse the work into a presentation.
 
"It's an interesting process," she says, "because it really drives home the idea that when you write a paper for class, that's not the end. There will be other rewrites and changes to make the paper stronger."
 
Moulton's paper, "Power Play: The Rhetoric of the NRA After Newtown," is a rhetorical criticism of ads placed by the National Rifle Association in the wake of the Newtown school shootings.
 
Her presentation at the Student Research and Creative Activity Fair earned her an Outstanding award in the Graduate Oral Presentation category. It's the second-highest honor given in her category, a distinction of which Moulton is proud.
 
She feels the experience of presenting her paper is helping make her advanced studies even more meaningful.
 
"As a student, you're in an academic scholarly pursuit and presenting a paper helps you see more broadly the scholarly aspect of getting a graduate degree."
 
The experience of presenting will inform what Moulton will choose for her graduate thesis, a topic she'll start thinking about soon. She's not yet sure what field she'll pursue after she graduates next year, but she's leaning toward social media in the corporate world.
Related Sites
School of Communication
Graduate Studies
Office of Research and Creative Activity
Contact Us
If you have a story idea or inquiry please contact:
Randy Mattley, Communications Specialist, College of Communication, Fine Arts and Media
rgmattley@unomaha.edu • 402.554.3216
Our Campus. Otherwise Known as Omaha.
The University of Nebraska does not discriminate based on race, color, ethnicity, national origin, sex, pregnancy, sexual orientation, gender identity, religion, disability, age, genetic information, veteran status, marital status, and/or political affiliation in its programs, activities, or employment. Learn more about Equity, Access and Diversity.
scroll to top of page