ISSUED: (Monday, January 22, 2018 11:20 AM)
WEATHER ANNOUNCEMENT:
All on-campus classes and activities after 2 P.M. on Monday, Jan. 22, 2018 have been canceled.
More Information
CLOSE

X
Going Places With Art
2014/07/02
contact: Noelle Lynn Blood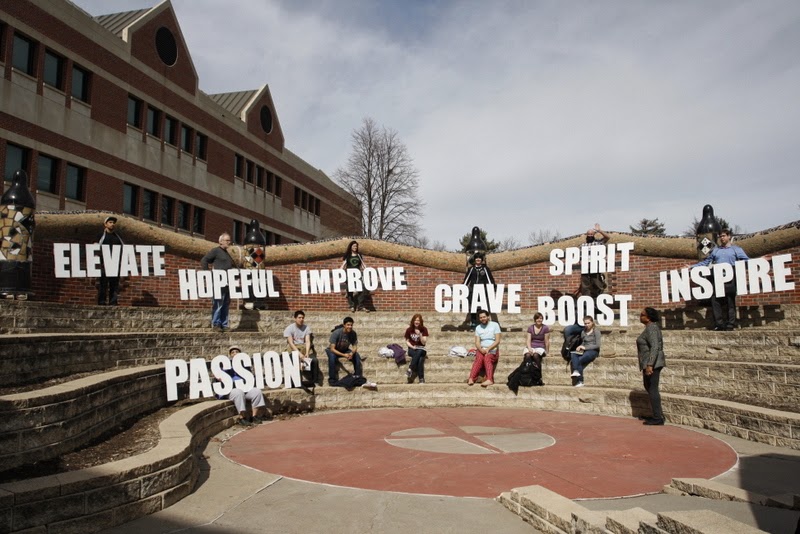 There's no mistaking the signs — Professor David Helm's students are really going places.
Last semester, in fact, they reached all corners of campus.
That happened through Helm's Art in Public Places course. In it, students learned and fine-tuned the process of creating and presenting public art. Doing so, says Helm, a professor of sculpture in the UNO Department of Art & Art History, is more than just placing artwork in shared space and walking away.
His course progressed in two phases. First, students developed road signs to place around campus. Each student had to request permission from administrative staff before placing their sign on property, then stood near their sign during the display period to observe reactions of passersby. For the second phase, students developed large-scale words and walked across campus March 10 creating "wordy interventions."
Helm says good public art requires a level of ambiguity, so breaking up the first two projects into stand-alone images and words underscored the process of learning public language.

"I came up with this idea for them to work with visual 'ingredients' that are familiar to people," he says. "That way audiences will immediately recognize what it is, but the artistic elements then leave it open to interpretation."
"I've really been challenged by this class," says Jacob Mosher, a senior studio art major. "It has forced me to think about art in other ways, particularly the application towards a broader audience."
Nadia Shinkunas, also a senior studio art major, says thinking about how other people might interpret one's work has been eye-opening.
"The more mindful and respectful you are of other people's opinions and feelings, the easier it is to achieve your goals," she says. "This will help me in the future, not only with the art that I create, but in dealing with the public in general, which is sometimes difficult for artists to do." 
Related Sites
Department of Art and Art History
UNO Art Gallery
Contact Us
If you have a story idea or inquiry please contact:
Randy Mattley, Communications Specialist, College of Communication, Fine Arts and Media
rgmattley@unomaha.edu • 402.554.3216
Our Campus. Otherwise Known as Omaha.
The University of Nebraska does not discriminate based on race, color, ethnicity, national origin, sex, pregnancy, sexual orientation, gender identity, religion, disability, age, genetic information, veteran status, marital status, and/or political affiliation in its programs, activities, or employment. Learn more about Equity, Access and Diversity.
scroll to top of page