Working Together to Stop Bullying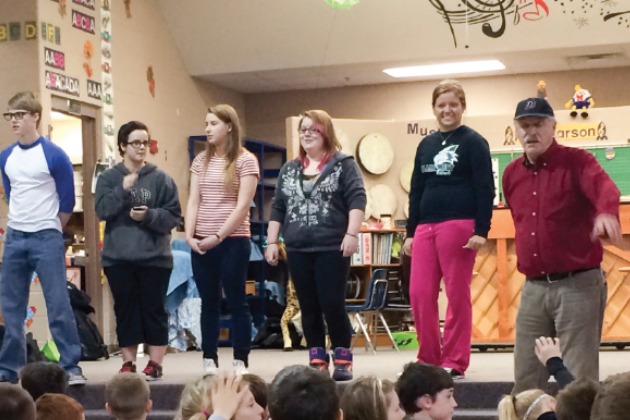 For any actor, it's the equation for a classic character study: antagonist plus protagonist equals struggle.
 
CFAM Department of Theatre professor Doug Paterson has been writing scenes that involve these elements for many years. To him, illustrating on-stage struggles shows us how to resolve real-life problems.
 
The key, he says, lies in creating a dialogue.
 
"Oppression is about one side talking and setting rules. But dialogue liberates us. It's a metaphor for almost all situations."
 
Recently, in his Introduction to Theatre course, he introduced UNO's Thompson Learning Community scholars to the concept.
 
The idea came from his work of more than 20 years with the Theatre of the Oppressed (TO), an organization that promotes critical thinking and social justice by using theatre and education. The group develops scenarios with not only actors, but also audiences, about issues of racial, gender and class inequalities.
 
In the scenarios, participants present a play that shows a protagonist facing a struggle. At the height of the conflict, the character fails.
 
That's when the actors turn to the audience to begin a dialogue. They ask for feedback and what the audience would do in the same situation as the character. The scene resumes with audience members replacing actors to change the conversation in the new direction, while continuing to ask for suggestions to shape the outcome.
"Instead of usual theater, we open it up to talk to each other," Paterson says. "Through this, we dismantle the idea of the passive spectator," who becomes a kind of "spect-actor."
 
He pitched the TO concept to the freshmen Thompson scholars as a P-16 service learning project with students at Millard Horizon High School. They agreed.
 
Over the course of eight meetings at UNO's Weber Fine Arts Building, the group developed scenes related to different kinds of bullying. They educated each other about what they knew based on their own experiences and began to embody the characters.
 
The students took two of their scenes to Rohwer Elementary, where they performed them for 150 fourth- and fifth-graders.
 
The experience, says Paterson, was "wonderful." Over the course of the semester, the UNO and Horizon students realized their work was about much more than being writers and performers.
 
The goal was to go through a risky, vulnerable process and see the discoveries in the younger students they reached — and in themselves.
Related Sites
Department of Theatre
UNO Theatre Productions
Contact Us
If you have a story idea or inquiry please contact:
Randy Mattley, Communications Specialist, College of Communication, Fine Arts and Media
rgmattley@unomaha.edu • 402.554.3216